See Dave Bautista As Glossu Rabban In Dune: Part 2 Trailer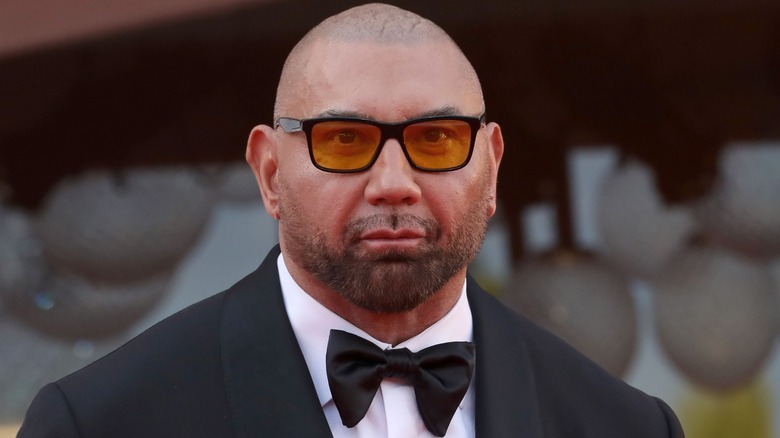 Elisabetta A. Villa/Getty Images
Dave Bautista is a busy guy, so busy these days that he still hasn't found time to be inducted into the WWE Hall of Fame, an honor he was initially supposed to receive back in 2020. And things are only going to get busier for the multi-time world champion, as he is set to star in a sequel to one of his biggest films yet. And no, it's not "My Spy: The Eternal City." Warner Brothers has released a second, full-length trailer for "Dune: Part 2," the sequel to, who could've guessed it, the 2021 film "Dune." Like the first trailer, released in May, Bautista was seen multiple times in this thrilling preview, once again reprising his role as the villainous Glossu Rabban, the nephew to the even more villainous Barron Harkonnen.
An adaptation of the acclaimed science fiction novel of the same name, "Dune: Part 2" picks up where its predecessor left off, with Paul Atreides (Timothy Chalamet) continuing to seek revenge against the Harkkonens for murdering his father. In addition to Bautista, other highlights of the trailer included an appearance from Christopher Walken, sandworms, numerous battle sequences, and Josh Brolin's Gurney exclaiming "you young pup!" upon reuniting with Atreides, in a moment that surely brought a tear to the eye of Patrick Stewart.
While "Dune: Part 2" will likely be the biggest film Bautista stars in during 2023, "The Animal" still has plenty of other projects in the pipeline, including the aforementioned "My Spy: The Eternal City," which kept him from his Hall of Fame induction this year. In addition to that film, Bautista is also set to star in "The Killer's Game," "Universe's Most Wanted," and "In the Lost Lands."