Why Booker T Says Sting's Table Spot From AEW Dynamite 'Wasn't Smart At All'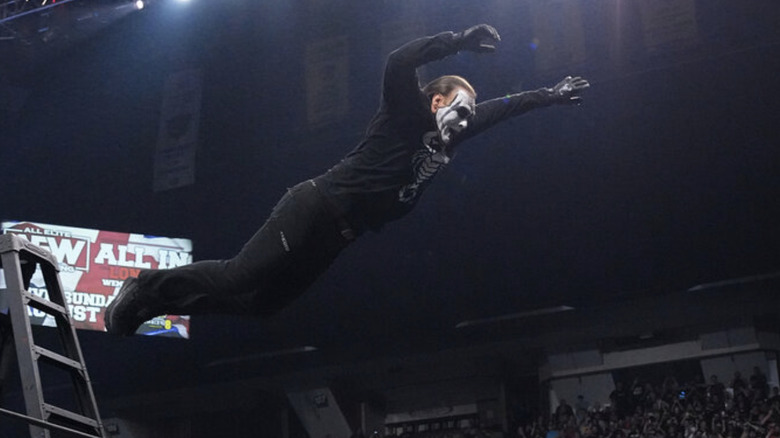 AEW
Wednesday's "AEW Dynamite" in Hamilton, Ontario, concluded with a chaotic tornado tag team bout that saw Sting and Darby Allin defeat Chris Jericho and Sammy Guevara. But in one of the match's most intense moments, Sting jumped from a ladder in the ring onto a table holding Guevara several feet away on the outside. Sting made it through Guevara's table, however, he clearly hit his mouth on the second table that was propped up.
The wrestling world continues to react to the spot, and now Booker T has weighed in with his thoughts during a recent episode of "The Hall of Fame."
"What the hell was he thinking?" Booker T asked. "This is something I talk about all the time, the older guys are wanting to go out there and live their dream and get that pop and get that rush from back in the day of how they felt. I don't know, maybe it's the swan song? 'I'm gonna go out, and I'm gonna go out big.' But for me, that wasn't smart at all and it could've literally been a disaster for Sting."
He added, "The Seth Rollins thing definitely put Sting in a position for doing stuff like that. It's just not smart at all. I don't want to see Sting get hurt doing something that these young kids are pulling off these days. That's just my opinion on that."
After the rough landing, Sting told the live crowd that he had a tooth knocked out and would likely need stitches on his lip. While Booker T didn't take to the spot as kindly, "Busted Open" hosts Bully Ray and Tommy Dreamer agreed that the tables at least should've been closer to the ring if Sting wanted to follow through with the risky jump.
If you use any quotes from this article, please credit "The Hall of Fame" with a h/t to Wrestling Inc. for the transcription.