Sami Zayn: 'I Always Just Assumed That If I Ever Got To WWE I'd Have To Play A Terrorist'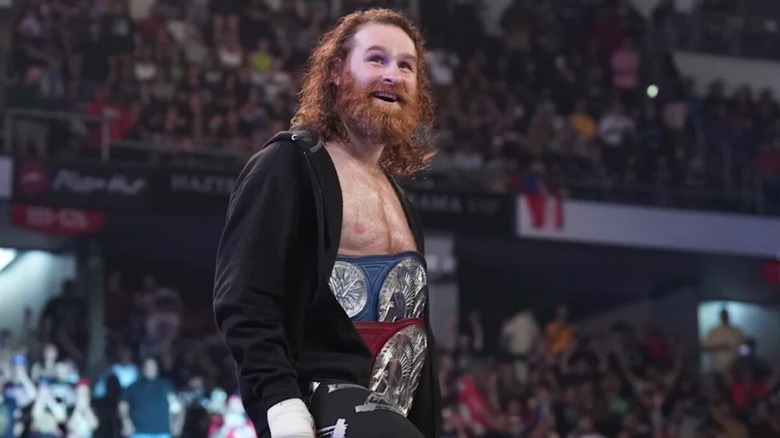 WWE
Representation matters. Many have gone through their lives without seeing themselves reflected in the media they consume; or worse, the closest thing they had to representation was harmful stereotypes that painted a terribly inaccurate picture of their culture. 
This was the type of experience Sami Zayn went through when he was growing up. But thankfully, professional wrestling and pop culture as a whole evolved from those days, and the Undisputed WWE Tag Team Champion is a huge part of that change.
While speaking to "Inside The Ropes," "The Underdog From The Underground" shared how special it was for him to return to Saudi Arabia for Night of Champions as part of the Bloodline storyline, which is still one of the biggest things in all of wrestling at the moment.
"That was a pretty big deal for me for a number of reasons. That whole trip was really, really, really remarkable. On some level, even as a child, being an Arab or Muslim growing up and never really seeing a positive representation of that in media, I always just assumed that if I ever got to WWE, I'd have to play like a terrorist or something like that ... That was just the perception and the portrayal of Arabs and Muslims on television. Never mind WWE, just in media. It was always sort of a thing in the back of my head [that] I'd love to change that one day."
And he played a part in that change. While his Syrian-Canadian ethnicity has always been a part of his character in WWE (since it was incorporated into his ring gear), the bits of Zayn's personality that have always been front and center are his quirkiness, his fondness of ska music, and his incredible in-ring acumen. 
Now fans of Middle Eastern and Muslim descent from the present and the future can look to the former "Honorary Uce" as a positive role model and an example to the WWE's global audience for a more positive and realistic portrayal of people with a similar background.