Booker T Wants To See WWE NXT Announcer Vic Joseph On The Main Roster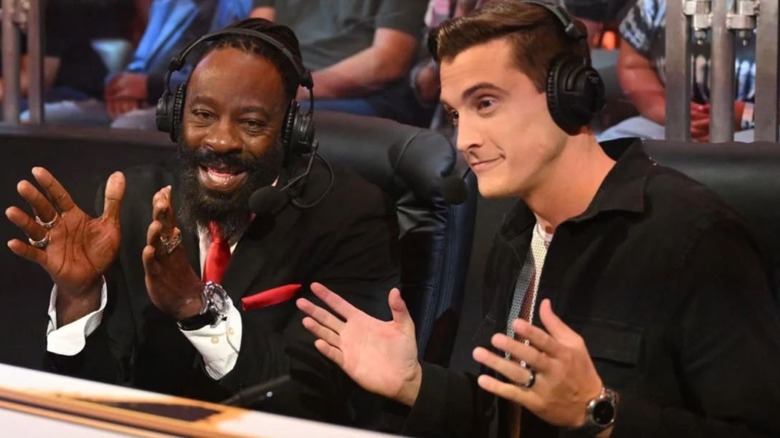 WWE
WWE legend and "NXT" commentator Booker T has complimented WWE commentator Vic Joseph's work behind the mic and wants to see the "NXT" commentator reach the next level.
While speaking on his "Hall of Fame" show, Booker T said Joseph is excellent as a commentator and hopes to see him on the main roster soon. 
"I want to see Vic move up. I want to see Vic move up to the main roster and get his flowers because Vic is good," he said. 
The two-time Hall of Famer then explained what his fellow "NXT" commentator does that viewers may not necessarily get to see. He commended Joseph's ability to direct him during the show, which helped him immensely.
"Vic is definitely the reason I stay on point on that show. He directs me. He's almost like a maestro sometimes, holding his hands, telling me to calm down, making sure the guys speed up through the reads. He's unbelievable. I definitely want to see that young man get to the next level," stated Booker T.
Joseph, who has been a part of WWE since 2017, first commentated on the "Main Event" show, and a few years later in 2019, joined the "Raw" broadcast team. He became the permanent play-by-play commentator on the red brand, replacing Michael Cole, who was moved to "SmackDown." Joseph's run on "Raw" ended a few months later and he later joined "205 Live" before moving to his current home, "NXT."
He currently shares the commentary desk with Booker T, who replaced Wade Barrett last year.