Bully Ray Calls For Controversial Wrestling Trope At WWE SummerSlam 2023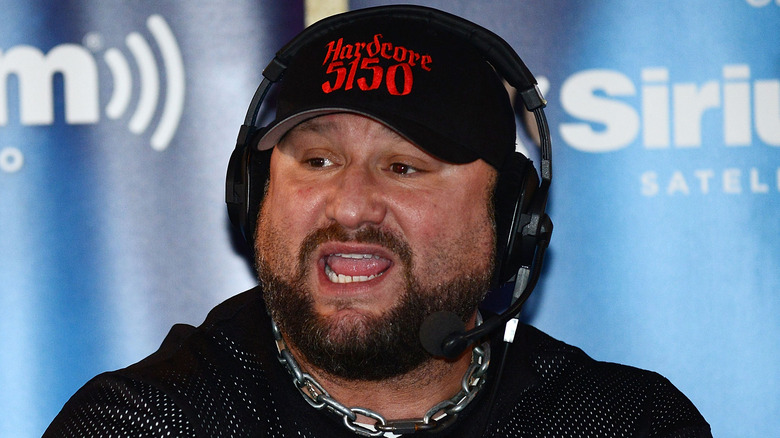 Gerardo Mora/Getty Images
The late Dusty Rhodes left behind an enormous legacy in professional wrestling, and one part of that legacy is the iconic "Dusty finish." The series of events is used to end a match and involves a referee getting knocked out, with a replacement referee running out and calling the end of the match in favor of the babyface. However, in the "Dusty finish," the knocked-out referee wakes up and reverses the decision, often resulting in a draw.
Speaking on "Busted Open Radio," host Bully Ray revealed his hope for the return of the "Dusty finish" at a key match planned for this year's WWE SummerSlam.
"If there was ever a time for a 'Dusty finish' in the WWE, it would be at SummerSlam," Bully said. "Imagine a 'Dusty finish' at SummerSlam in which we are meant ... to know that Jey Uso just won the match. ... Oh my God. And WWE is not big on the Dusty finish at all, but holy cow — if this wasn't just the right place for it."
Though the trope didn't originate with Rhodes, the WWE Hall of Famer used it so many times as a booker that his name became forever attached to it. The "Dusty finish" and variations of the trope have been used many times over the years, both outside of WWE and within the company.
A Highly-Anticipated Title Bout
Whether or not the match involves a "Dusty finish," it's clear that the veterans at "Busted Open" are excited for a potential Bloodline clash at SummerSlam. Laying out what he expects to see in the match, Bully didn't have the highest hopes for an Uso victory, but was confident the journey would offer some twists and turns before the story is concluded.
"Do I think at the end of the day that Jey Uso is going to become the next WWE Universal Champion? No," Bully stated. "Do I think the story that they are telling would lead me to believe that it could happen? Absolutely. And let me tell you something — if we get Jey Uso vs. Roman Reigns at SummerSlam, ... [with] the story that has been told so far, and the believability that Jey has already pinned Roman — I guarantee you that those will be some of the most believable false finishes that you have seen in your life."
While Reigns vs. Jey Uso hasn't been officially confirmed, it is reportedly one of six matches being discussed for this year's SummerSlam. Earlier this month at WWE Money in the Bank, Reigns was pinned for the first time in several years by Jey, setting up an inevitable conflict between the two in the future.