AEW's Adam Cole Explains How His Injuries Gave Him New Appreciation For Pro Wrestling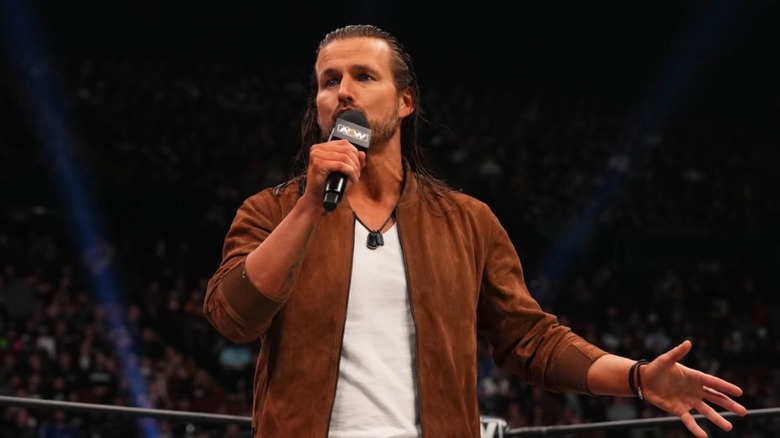 AEW
Adam Cole has come a long way from a year ago when two straight concussions put his future in pro wrestling in doubt. Now, Cole finds himself several months into his comeback, having taken AEW World Champion MJF to a draw before reluctantly joining forces with his new rival to take part in the Blind Eliminator Tag Team tournament, and a prime spot on AEW All In likely waiting for him this August.
In an interview with "BBC," Cole talked about how it felt to be on the verge of wrestling such a big event only a year after wondering if his career was over. He admitted how that time away gave him a new outlook on wrestling.
"It means the absolute world," Cole said. "I've said this before ... fortunately for me, pro wrestling was my first love. When I was 9 years old, I fell in love with pro wrestling. I made the decision that I wanted to be a wrestler, and fortunately, I never lost appreciation for how absolutely incredible this job is, and how much I love it. However, you can't help but gain a new appreciation for what you love to do when it almost gets taken away from you."
Cole said that in the unlikely event that he isn't on the All In card, he would still find a way to be part of it.
"I've said this before, I've made this joke, if for some reason I'm not on the card, I am flying myself there, to be involved in some capacity, just because of how important this event is," Cole said. "Certainly, I hope that I'm in a really, really important match, in a really, really cool part of the show, but I am so, so excited. I can't wait."
If you use any of the quotes in this article, please credit "BBC" and provide a h/t to Wrestling Inc. for the transcription