Why Karrion Kross Says AJ Styles Is 'Ahead Of His Time' After Working With Him In WWE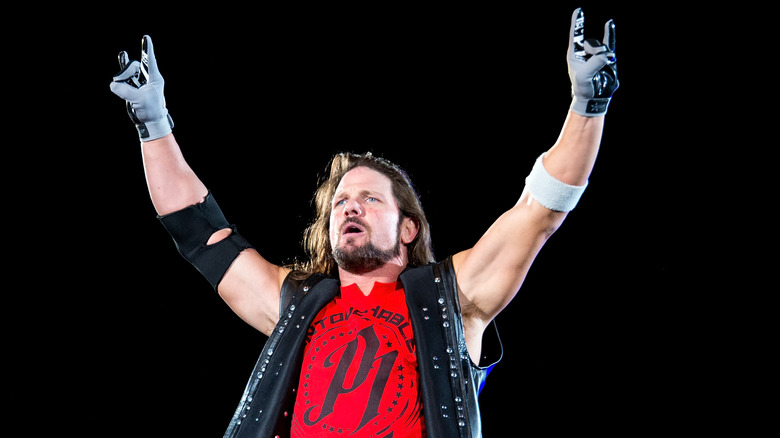 Christian Bertrand/Shutterstock
Since returning to WWE last summer, Karrion Kross has had plenty to do on "WWE SmackDown," including feuding with Drew McIntyre and Rey Mysterio. Recently, however, Kross and his wife, Scarlett Bordeaux, have been going toe to toe with AJ Styles and his fellow OC member Michin, with Kross and Bordeaux winning a mixed tag match weeks ago, while Styles defeated Kross in singles competition this past Friday. Appearing on "Keepin' It 100," Kross discussed working with Styles, and suffice to say, he's very much enjoyed the experience.
"He's amazing to work with," Kross said. "He's the best. The thing that stands out to me is that he has a ring IQ of nobody that I've ever met. I've met people with high ring IQs ... the way he sees wrestling is, he was ahead of his time when he was coming up in TNA, and I think in a lot of aspects, he's still ahead of his time, even present day. The things that he's doing, there are nuances that people aren't even picking up that people will study a decade from now going, 'He was the only one doing that'. I won't say what it is, but if you know you know if you watch his work."
Kross further noted that Styles isn't afraid to get physical in the ring with him, something that Kross really appreciates and believes has helped make their performances better. "He'll bring it," Kross said. "He's someone I can get in the ring with where I know he's going to punch me in the face, I'm good with it, he knows I'm good with it, and he knows I'm going to suplex him on his head. People are going to get their money's worth when we work."
If you use any of the quotes in this article, please credit "Keepin' it 100" and provide a h/t to Wrestling Inc. for the transcription.