Freddie Prinze Jr. Is 'In Love With' WWE's Maxxine Dupri In Alpha Academy Story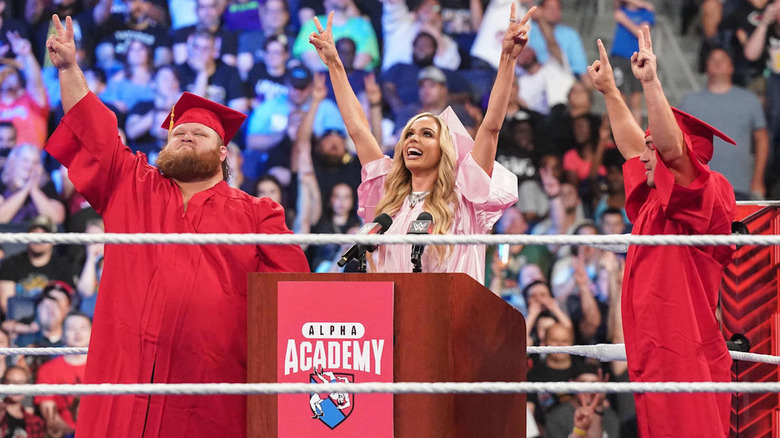 WWE
When Maxxine Dupri first started hanging out with Alpha Academy, her intentions were to enlist Otis to join Maximum Male Models along with ma.çé and mån.sôör. However, as we saw on this week's "WWE Raw," things backfired a bit as she became a full-fledged member of Chad Gable's team and even joined their fight against the Viking Raiders.
The WWE Universe seems to be along for the ride as Dupri learns how to defend herself against Valhalla. As Dupri does her best to follow her coach's guidance, Freddie Prinze Jr. is ready to enjoy every minute of it. The former WWE writer raved on his podcast "Wrestling With Freddie" about the angle and determined that Gable, Dupri, and Otis's commitment are the driving forces behind this endearing storyline.
"The star of this show right now is Maxxine Dupri," Prinze said. "What she's committed to is completely ridiculous storyline-wise. She's learning to wrestle from Chad Gable. Each week he's teaching her a new move and each week she has to do it for real against a psychotic Viking woman who wants to kill her. It would be very hard to sell this idea to an executive who would be skeptical and cynical of my taste, so I'm not saying the story is good. But her commitment to the story has made me love her and the Alpha Academy very, very much."
Prinze went on to praise Dupri's "Jim Carrey commitment," which especially shined through when the convulsions and surprised facial expressions compelled her to try the once-maligned Caterpillar. It will be interesting to see where else this rivalry goes from here.
If you use any of the quotes in this article, please credit "Wrestling With Freddie" with an h/t to Wrestling Inc. for the transcription.