Roman Reigns And Jey Uso Set For 'Rules Of Engagement' Next Week On WWE SmackDown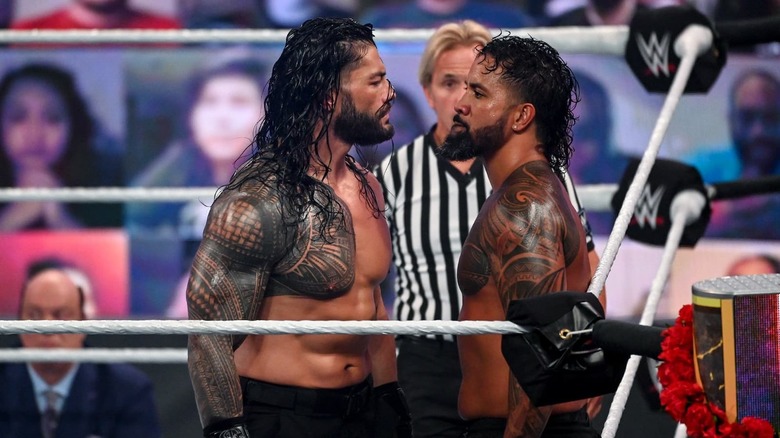 WWE
Undisputed WWE Universal Champion Roman Reigns may not have been present for "WWE SmackDown" Friday night, but his cousin Jey Uso was. And next week, the two will meet face-to-face "to discuss the rules of engagement," according to the special counsel to "The Tribal Chief," Paul Heyman.
Of course, following the events of Friday night, next week's meeting may somehow be more tense than their previous encounter.
Last Friday, Jey Uso laid out a challenge to Reigns, declaring, "You better accept my challenge, so I can whoop your a** one more time."
Jey delivered another passionate message this week, making it clear that while he respects his family, he has none of it left for Reigns. Seconds after finishing his sentence, Heyman appeared with none other than Solo Sikoa by his side and proceeded to lay the blame for everything — especially the beatdown Jimmy Uso suffered last week — at Jey's feet. After declaring that nobody would ever forgive him, Sikoa echoed the sentiment, only to receive a series of chair shots and superkicks for his trouble.
Jey even saved a superkick for "The Wiseman" himself. Something tells us Reigns is going to have plenty to say about that when the cousins come face-to-face as we get ever closer to SummerSlam.