Booker T Weighs In On Idea Of Nick Aldis Going To WWE After Impact Departure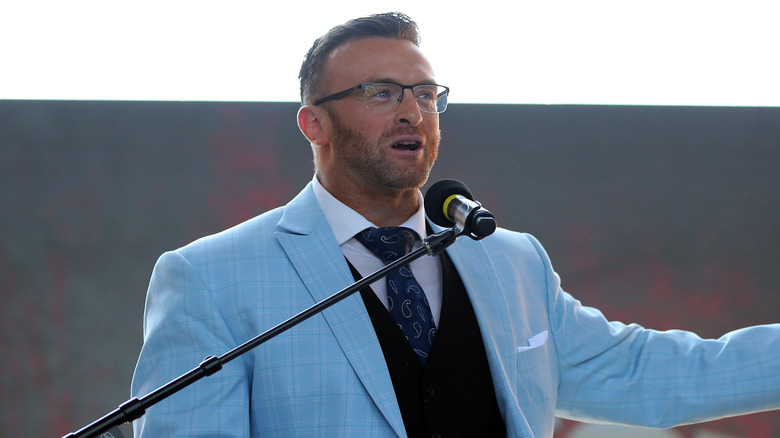 Omar Vega/Getty Images
Nick Aldis is reportedly a free agent once again as his short-term stint with Impact Wrestling came to an end following the recent Slammiversary pay-per-view. The Englishman is once again the talk of the wrestling world about where he could go next, and Booker T believes he would be a good signing for WWE. 
"He's a guy who is mature enough to understand what this business is about, more than anything," he said on his "Hall Of Fame" radio show. "That's what I say about guys coming into WWE, they gotta be seasoned a lot of times in order to really, really understand what that thing is about."
The Hall of Famer believes that is why LA Knight is currently thriving this time around as he now has the maturity to handle it. Aldis is someone who has a lot of experience working in the industry, and Booker T thinks that he has enough star power to make people pay attention to him if he signed with WWE.
"I think a guy like Nick Aldis would definitely be an addition to that WWE roster, perhaps in some way, in some form," Booker T said. "I don't know exactly how, but I do think Nick Aldis is a name, his name has some value to it around the world, not just in Impact Wrestling, I think you say the name, 'Nick Aldis,' pretty much if you're in the wrestling world, you're going to know who he is."
While Booker T isn't sure how WWE would use the former NWA Worlds Heavyweight Champion, it has been reported that the company is looking at him for a potential producer role, but it is unknown if they would use him as a wrestler as well.
If you use any quotes from this article, please credit "Hall Of Fame" with a H/T to Wrestling Inc. for the transcription.