Corey Graves Says Jey Uso Hit A 'Grand Slam' During Recent WWE SmackDown Performance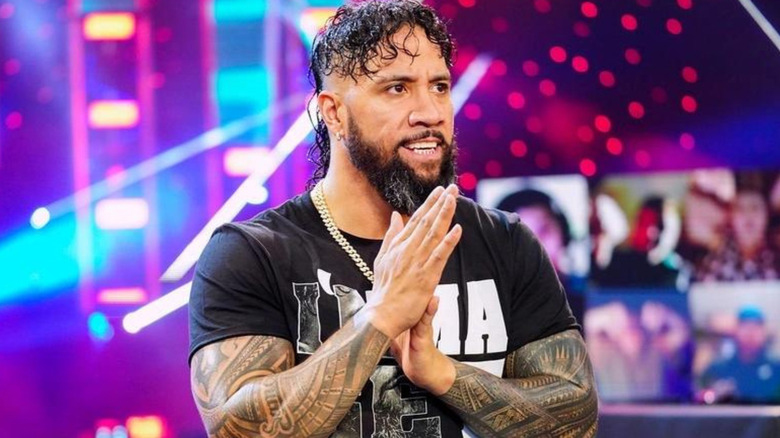 WWE
After his brother Jimmy suffered a (storyline) injury, Jey Uso was forced to stand alone last Friday night on "WWE SmackDown." Despite the absence of his brother, WWE commentator Corey Graves believes Jey delivered a stellar performance in his opening promo, which eventually led to the arrival of Solo Sikoa and Paul Heyman. In the early portion of his promo, Jey was greeted with "what" chants from fans. As Jey continued speaking though, he began using the chants as a complement to his words — a trend that was usually reserved for Jimmy Uso. When paired together, The Usos typically finish each other sentences or repeat each other's thoughts for emphasis. With Jimmy unavailable, though, Jey filled that verbal void with the sounds of the live audience in Raleigh, North Carolina. For that move, Graves commends Jey.
"The promo that Jey cut on "SmackDown" was so impassioned, so believable," Graves said on "After the Bell." "But what stood out to me more than anything, was for years, superstars have complained about being plagued by the infamous 'what' chants from the WWE Universe. Those chants 'Stone Cold' [Steve Austin] started to annoy Mr. McMahon and whomever else 'Stone Cold' was verbally sparring with. The fans love it, the fans have fun with it, but let's be honest, sometimes it's a little much when someone's out there trying to convey their thoughts and their feelings and their emotions, oftentimes in a soliloquy, to have every other word met with 'What! What! What!'. It can wear on a superstar."
"However, from what I saw, what Jey was able to do was orchestrate the WWE Universe and use those 'what' chants to his advantage in such a way that I was truly blown away. I was impressed on a human being, business level, take character out of the equation, just going, 'This guy figured it out.'" Following his fiery promo, Jey will now come face-to-face with Roman Reigns as they discuss "the rules of engagement" for their upcoming title match, which is reportedly penciled in for WWE SummerSlam.
If you use any quotes from this article, please credit "After the Bell" with a H/T to Wrestling Inc. for the transcription.