Alicia Fox Discusses New Ring Name And Post-WWE Career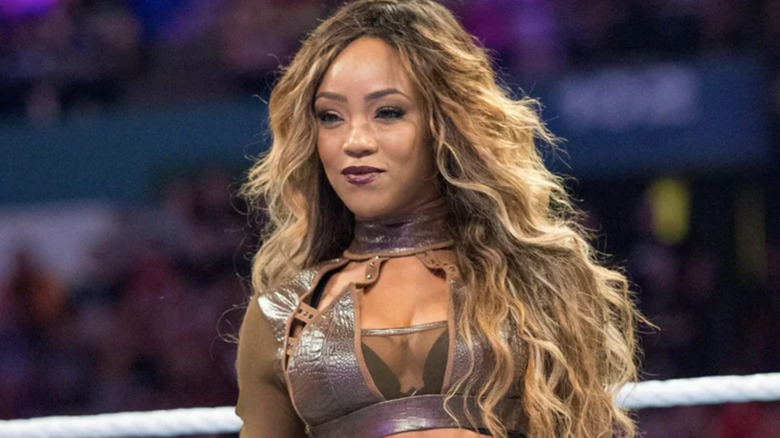 WWE
Following her departure from WWE, Alicia Fox began a new chapter in her wrestling career, one that started at Reality of Wrestling's "Summer of Champions" event on July 15. On the heels of her recent appearance at ROW, the former WWE Divas Champion sat down with "Muscle Memory" to discuss her transition to the independent circuit, as well as her new ring name — Vix Crow.
When asked how her new ring name came to fruition, Fox explained that it was a simplified version of her full legal name, Victoria Elizabeth Michelle Crawford, which will also include the added surname of Fitzgerald upon her upcoming marriage to musician Michael Fitzgerald.
As Fox continues her transition into life beyond WWE, she admits that it's been a strange sensation for her. "It's a weird transition just because of — I think it's in my innermost self that's strangely transitioning because in my mind I'm like, 'What was the last match I had? Was I good? Did I look like I could perform?' All these things. But in that particular chapter in my life [with WWE], it wasn't really expected to get much feedback. So, in this chance, I feel so inspired for many, many reasons," Fox said.
"I feel so inspired that this is an independent sphere. I can create here, and it's okay. So it makes me, in my innermost self, wonder, 'Well, what was my problem before and how am I going to fix it going forward?' Because regardless if it's the business, ... am I going to perform to the best of my ability? I'm going to do my best. So, I need to just get it out of it," she said.
While Fox's next moves have yet to be confirmed, it appears that she has set her sights on ROW's Diamonds Division Champion Promise Braxton, whom she confronted after Braxton won a battle royal at the "Summer of Champions" event.
If you use any quotes from this article, please credit "Muscle Memory" with a H/T to Wrestling Inc. for the transcription.