Freddie Prinze Jr. Says WWE's Jey Uso Is Currently The 'Most Over Dude' In Wrestling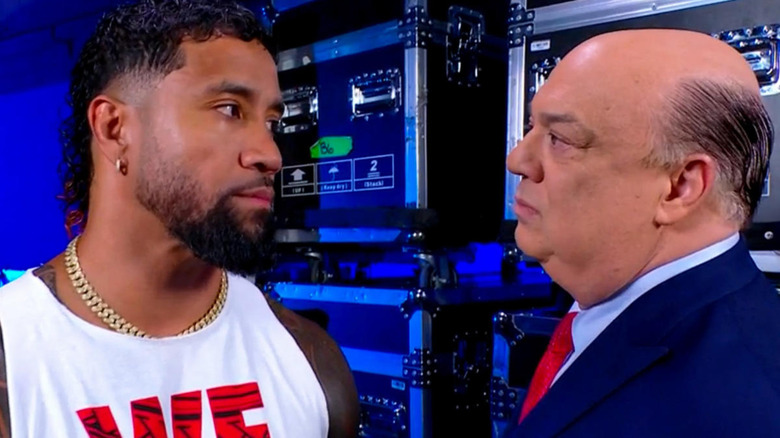 WWE
Former WWE writer Freddie Prinze Jr. feels that Jey Uso is the most over wrestler in pro wrestling currently. 
On the recent "Wrestling with Freddie" podcast, Prinze Jr. reviewed last week's "WWE SmackDown" segment featuring The Bloodline, where Jey Uso and Roman Reigns came face-to-face ahead of their SummerSlam match. He went on to explain why Jey Uso is adored by WWE fans right now, and how he is over despite saying very little.
"Jey Uso moves around and has better body language than anybody in professional wrestling," declared the former WWE writer. "The crowd is so hot for him and he probably says less than every single over superstar in wrestling right now. Less than MJF, less than Sami [Zayn], even less than Kevin [Owens] — Kevin just does those quips." 
Prinze Jr. stated that the multi-time tag team champion is the one star that fans care about the most in all of pro wrestling currently.
"But, he's so active and looks so volatile that you can't take your eyes off him. I really think he's the most over dude right now in the game because he's in the main storyline in wrestling and he's the main guy in the main storyline in professional wrestling right now," said Prinze Jr.
The actor and director praised the segment, especially Paul Heyman's comments where he was complimenting and criticizing Jey Uso at the same time. He said that the "SmackDown" segment was the best segment of the week in pro wrestling. Uso will get an opportunity to win his first world title at SummerSlam when he will face Roman Reigns for the Undisputed WWE Universal Championship as well as the title of "The Tribal Chief."