Backstage News On The Elite's Future AEW Plans Amid Contract Speculation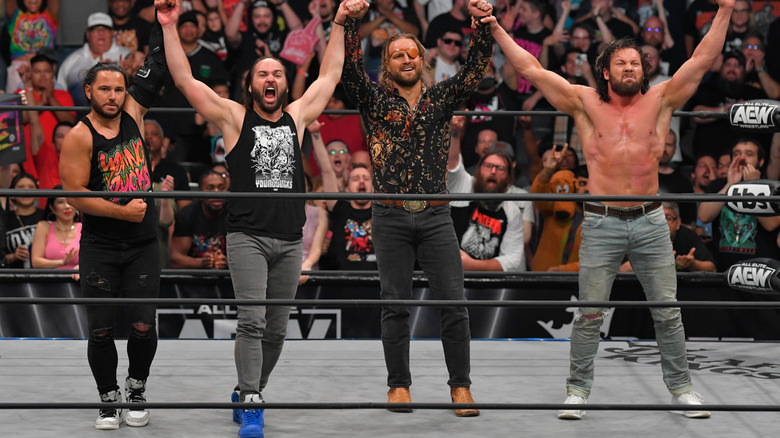 AEW
Despite recent speculation regarding the contract status of The Elite members, the prevailing belief is that The Young Bucks, Kenny Omega, and "Hangman" Adam Page will all be staying with AEW, per the latest Wrestling Observer Newsletter.
Previously, no significant progress had been made regarding contract negotiations for the group, leading to speculation that any or all of them could eventually be WWE-bound. Months ago, WWE did believe there was a fair chance at landing Omega in 2024; the former AEW World Champion was the most coveted of the bunch. 
That appears to have dissipated quite a bit as the belief picks up that he'll be sticking with AEW, where he has a lot already invested. That plan was supposed to be much more apparent after The Elite's recent Blood & Guts victory. There, Omega cut a promo and made it clear that they would be sticking together. However, it was only something heard by those in attendance — and those lucky enough to catch recorded video of it online. Initially, it was meant to be televised. 
Tony Khan has been trying to lock up valuable talent to lucrative long-term deals lately, with Rush's contract signing serving as the latest example. The money in Khan's offer hit a point that it was too much for WWE to desire matching. But nothing is certain until one signs their name on the dotted line. So for all the belief surrounding The Elite, they're not officially staying in AEW until new contracts have been inked.