Mustafa Ali To Wear Captain America-Inspired Gear At WWE NXT Great American Bash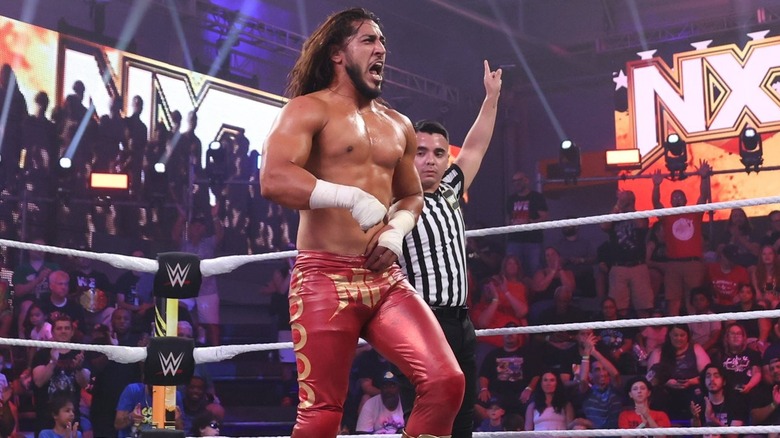 WWE
When Rey Mysterio began dressing as comic book characters for WrestleMania, it started a chain reaction that threatened to engulf the WWE Universe. From Johnny Gargano's many comic-themed attire to Rhea Ripley and The New Day both drawing inspiration from the Saiyans of Dragonball Z, comic-book influences have taken hold.
In an interview with WWE Deutschland, Mustafa Ali announced that his attire at Sunday's "NXT" Great American Bash event will be influenced by the Marvel character Captain America, intending to get under the skin of any fans that believe Mustafa Ali isn't from the United States of America.
"I'm about to have the freshest drip on that show," Ali said.
Ever since he went undrafted during this year's WWE Draft and became a free agent, Mustafa Ali has been a menace to the "NXT" crowd and locker room, antagonizing former North American Champion Wes Lee among others. Ali is set to face North American Champion "Dirty" Dominik Mysterio and Lee in a Triple Threat Match at the July 30 event in Cedar Park, Texas's H-E-B Center. Ali has never held a championship during his time in WWE.
Ali, much like fellow free agent Baron Corbin, is not expected to be a permanent fixture in "NXT," but has been using his time in the developmental brand to refresh his character, with WWE officials also hoping the main roster staples bolster fan interest in the Tuesday night wrestling program. Corbin will also wrestle at The Great American Bash, taking on Gable Steveson in the Olympic gold medalist's long-awaited in-ring debut.