Ricky Steamboat To Appear On AEW Collision As Referee Of CM Punk Vs. Ricky Starks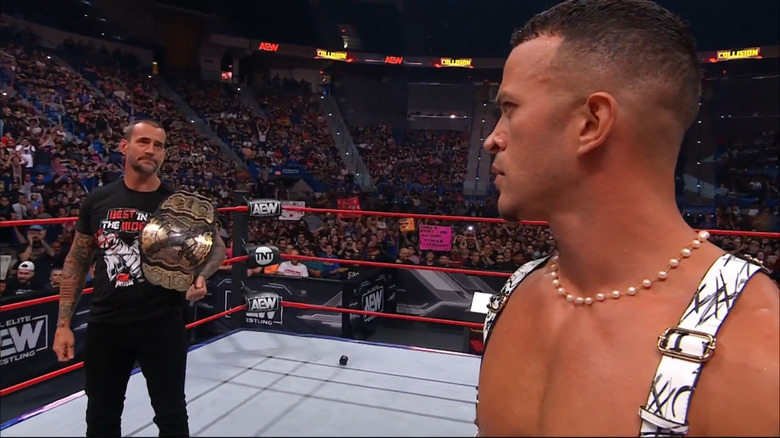 AEW
After CM Punk unveiled the "real" AEW World Championship on this week's "AEW Collision," a friend turned foe in the form of "Absolute" Ricky Starks entered Hartford's XL Center to challenge him for it. The winner of this year's Owen Hart Foundation Tournament pointed out that he holds two victories over "The Best in the World," so he should be the one holding Punk's belt, which now sports a big, black, spray-painted X on the center plate. While Punk isn't one to back down from a challenge, he did say that he'd like a special guest referee for their next match due to the questionable ways Starks has claimed his victories.
Enter the Dragon.
Following the announcement made in the arena by the iconic Tony Schiavone, AEW owner and promoter Tony Khan confirmed on Twitter that Ricky "The Dragon" Steamboat will be the special outside official when Starks and Punk meet to determine the "real" world champion next week on "AEW Collision."
Steamboat and Punk have a long history together. When he was a fan, Punk looked up to wrestlers like "Macho Man" Randy Savage and "The Dragon." Later, when Punk became a wrestler himself, he got to work with the WWE Hall of Famer. First, they feuded in Ring of Honor when the legend confronted "The Second City Saint" for his arrogance. Then, they teamed together in a multi-man match after Steamboat's feud with Chris Jericho at WrestleMania 25.
As Ian Riccaboni pointed out on commentary, Steamboat also has a good deal of experience as a referee. In addition to acting as the official for WWE house shows during his mid-2000s run, he also reffed matches featuring Punk and the Pure Championship in ROH. Now, many years later, he'll bring his trademark morality and unwavering rule-following to AEW to cross paths with "The Straight Edge Superstar" once again.