Roxanne Perez Shares That Anxiety & Depression Weren't Just Part Of Her WWE Storyline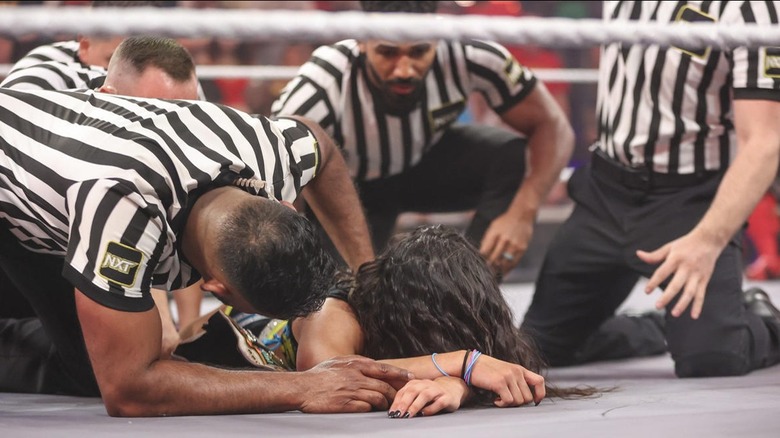 WWE
Earlier this year, following her successful "NXT" Women's Championship defense against Meiko Satomura, Roxanne Perez collapsed in the ring and was subsequently stretchered out of the arena. The frantic scenes left a lot of fans wondering if the events were part of a storyline, or if Perez had genuinely collapsed from a concussion or anxiety attack.
A few weeks later, Perez would return to "NXT" programming and speak about her battles with anxiety, and why she needed to return to the ring for her own sanity. In a recent interview with "Getting Over," Perez confirmed that her collapse was kayfabe in nature, but pulled back the curtain on her battles with mental health, implying that there was an element of reality to the storyline. 
"What a lot of people don't know is that was real, and not just a storyline," Perez revealed. "I do deal with anxiety, I've dealt with depression, and continue to. I figured that it's something you just kind of workaround, try to live with, and find resources to help you deal with those things."
"I think that there's still a stigma around it," Perez continued. "I think I wanted to try and break that stigma, whether it was just me subtly talking about it, or making it normal to say, 'I'm a WWE superstar but I deal with anxiety.' My main goal was just to ... I knew that was something I needed to watch on TV when I was a kid. I definitely think that could have helped me, so, if I can help anyone, whether it be adults or anyone that needs to hear that — someone else is going through that as well. I'm glad to be able to do that."
At the time of the incident, there was speculation that Perez's collapse was an homage to a storyline from the mid-1990s where Shawn Michaels similarly collapsed after a match with Owen Hart. Michaels currently serves as the head booker of the "NXT" brand.
If you or someone you know needs help with mental health, please contact the Crisis Text Line by texting HOME to 741741, call the National Alliance on Mental Illness helpline at 1-800-950-NAMI (6264), or visit the National Institute of Mental Health website.