What Mark Henry Thinks WWE NXT Newcomer Gable Steveson Needs For His Career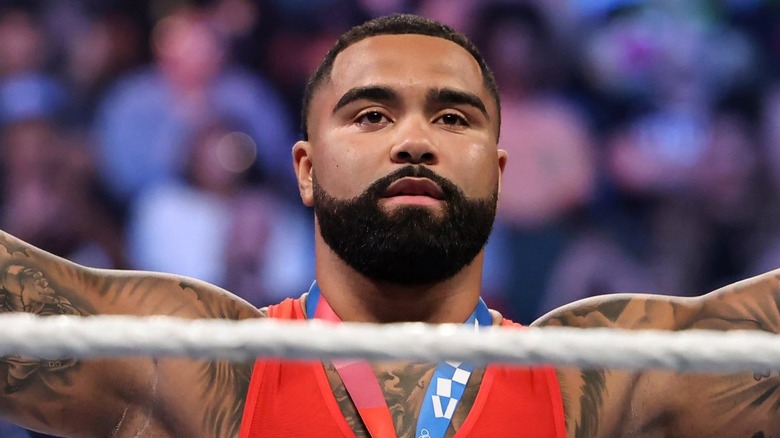 WWE
Gable Steveson received a cold, caustic reception from the WWE Universe in his debut match on Sunday. On "Busted Open," the discussion turned to Steveson's double count-out draw with Baron Corbin and how the crowd was cheering the usually villainous Corbin.
"He needs the proper mentorship," Mark Henry said of Steveson, believing that it's up to him to "impose [his] will" on the fans.
"I think they are waiting on the office to do it, they're waiting on the writers to do it," Henry continued. "The writers are not in the ring. The writers are not in front of the people. The boss cannot come to the ring and say, 'Hey guys, we're paying this guy a lot of money. We want him to get over with you, here he is.' It's gonna go off like somebody taking a dump in church."
Henry returned to his initial point, that Steveson needs someone that has walked the same path to not only mentor him but also manage the Olympic gold medalist on camera, thinking of Olympians in particular.
"You almost have to bring Kurt Angle back to be his manager and say, 'He's not me. He's better than me,'" Henry explained, saying Angle should make it clear that Steveson "doesn't give a damn," and should come off like he doesn't care about the audience knowing about his amateur wrestling bonafide. Steveson's debut was long-awaited, as he signed with WWE in 2021, and was part of that year's WWE Draft when he was selected to "Raw." But never wrestled a match until Sunday's Great American Bash.
If you use any of the quotes in this article, please credit "Busted Open" with a h/t to Wrestling Inc. for the transcription.