Details On WWE's New Far-Reaching Partnership With Slim Jim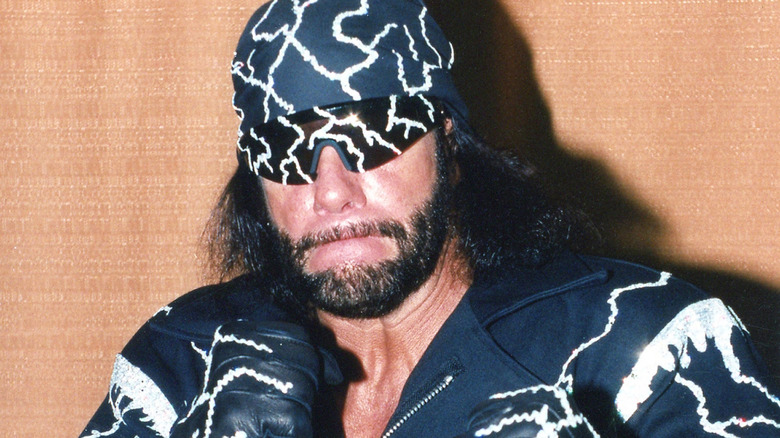 George Napolitano/Getty Images
Professional Wrestling and Slim Jim was a powerful partnership in the 1990s, thanks to Slim Jim's spokesperson, former WWF and WCW Champion "Macho Man" Randy Savage.
According to a press release from WWE and Slim Jim, that partnership will be reunited. WWE and the beef jerky powerhouse have announced a "multi-layered partnership" that is said to be the largest in WWE history, with the start of the new relationship being marked by the upcoming SummerSlam Battle Royal, which is sponsored by Slim Jim. The battle royal is said to be one of several instances of Slim Jim branding being worked into the WWE product, with promises of more sponsored collaborations at Survivor Series, Royal Rumble, and WrestleMania 40. 
Not only will Slim Jim be sponsoring matches and other aspects of WWE television, but the partnership will also feature "custom content and social media executions with Superstar talent, online sweepstakes to drive fan engagement, in-store activations, and more."
VP & General Manager of Snacks at Conagra Brands, Spencer Fivelson, is excited for the two brands to be working together, hoping that WWE can share in Slim Jim's mission of "crushing boredom and doing the unexpected."
The news comes off the back of WWE making a record $20 million in sponsorship revenue from this past April's WrestleMania 39. Senior vice president and head of global sales and partnerships, Craig Stimmel, said that WWE is working to use sponsorships to "break the fourth wall" like when Bray Wyatt and LA Knight wrestled in a Mountain Dew Pitch Black Match, or the Cinnamon Toast Crunch Sponsorship that was plastered across Rey Mysterio's WWE WrestleMania 39 match against his son, Dominik.
As it stands, LA Knight, Sheamus, Chad Gable, Otis, Shinsuke Nakamura, and Tommaso Ciampa are all confirmed for the Slim Jim-sponsored battle royal.