Why Kevin Owens Isn't Taking Any Credit For WWE's Bloodline Storyline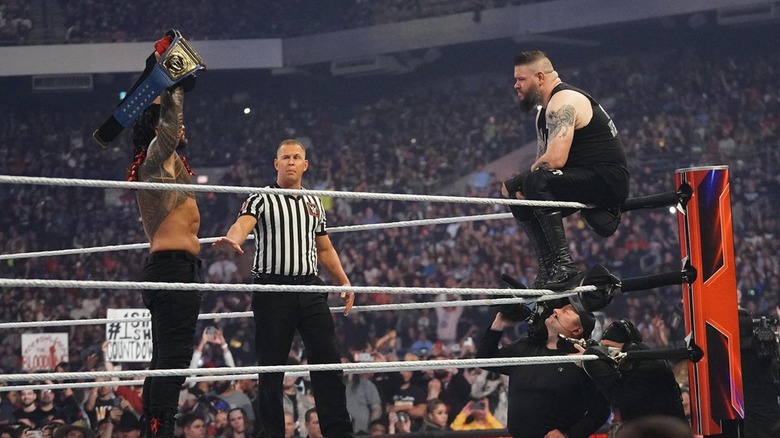 WWE
Kevin Owens has been one of the most reliable and consistent workers in WWE ever since his main roster debut over years ago, winning multiple titles and main-eventing WrestleMania over the past two years. His emotional victory alongside Sami Zayn in the headlining bout in Southern California this past April was a clear highlight in Owens' lengthy career, adding another brilliant chapter to the ongoing Bloodline saga by defeating The Uso's for the Undisputed WWE Tag Team Titles.
But as for his involvement in the years-long angle involving Roman Reigns and The Bloodline, Owens gave a humble assessment during a recent interview with TNT Sports.
"I don't feel responsible for any of it ... it was a tiny little part," he said. "I just happened to have a 20-year story with Sami already. Sami and The Usos made that story, but I was just coming in and out here and there. I was always the obvious choice to finish up that part of the story ... the credit goes to those guys. I obviously wanted it to be us [main eventing] because I felt like our story deserved it 100 percent. Sami and The Usos deserved that and I'm so glad it worked out. Save for Roman maybe in the past two years and everything he's been doing with the title ... I think I've had the best run out of anybody and I feel very lucky to be – just be there and I'm so grateful for it all."
Kevin Owens details absence of humility in WWE locker room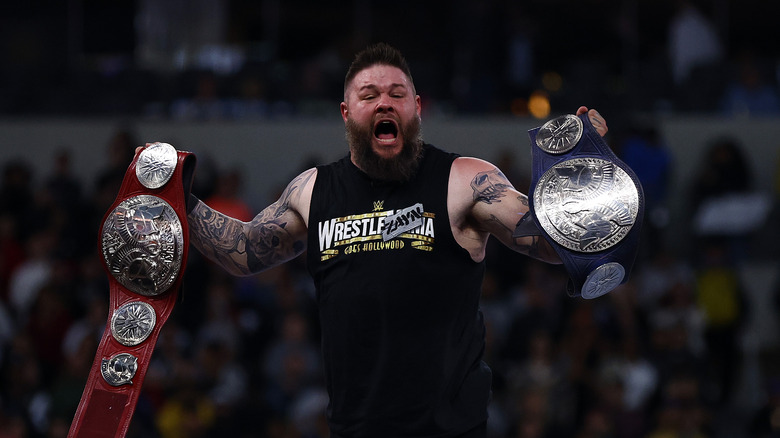 Ronald Martinez/Getty Images
While his recent injury woes have put a damper on Owens' tag title run with his long-time best friend, the 39-year-old helped add another wrinkle to a program that will continue at SummerSlam, with Jey Uso set to take on Reigns for the Undisputed WWE Universal Title in the culmination of a three-year story arc.
His humble response to being only "a small part" of The Bloodline storyline was pointed out by interviewer Ariel Helwani, but Owens has always been a performer who doesn't need to sing their own praises for fans and peers to acknowledge his greatness. Unfortunately, that same attitude doesn't extend throughout the WWE locker room according to Owens.
"Here's one thing about this industry that I think is going and being lost and I really hate it – I think humility is going out the window," he said. "All I see is constantly people putting themselves over on social media and all this stuff. I see the same people in the locker room and I'm like, 'Oh, that's not just a character they're playing' ... they really think this s**t. It's crazy. Being humble in this industry is a huge key to success and it's an important quality to have and I think that's gone."
'They Went Insane'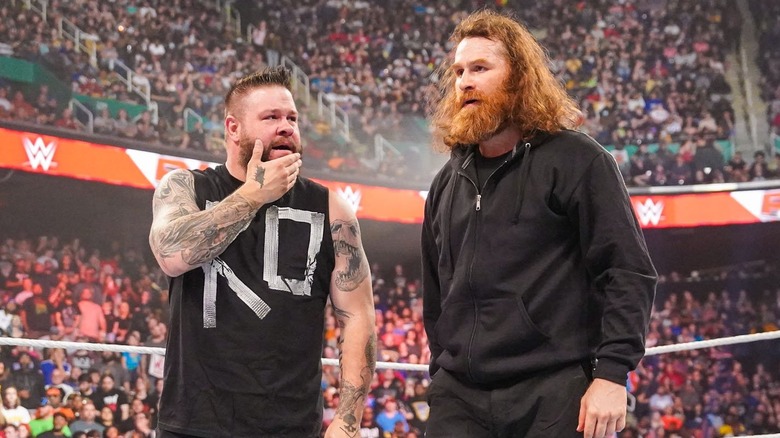 WWE
"I was friends with people in 'NXT' and when we got called up, they went insane," Owens continued. "For me, I always did everything I could to keep a level head and because of that, I always try to look at things as realistically as I can. I've said, 'Right place, right time' in my career a lot and that's the truth. It just happened over and over again, because I can give myself enough credit for being in that place when it was time to pick somebody and I was there ... I got there myself, but I don't want to ever lose sight of the reality."
Since joining the main roster and taking down John Cena upon his debut, Owens has gone on to become a grand slam champion, as well as facing "Stone Cold" Steve Austin in the main event of WrestleMania 38 last year.
f you use any quotes from this article, please credit TNT Sports with a h/t to Wrestling Inc. for the transcription.