Why Paul Heyman Told Kevin Owens To Threaten Quitting WWE Before WrestleMania 35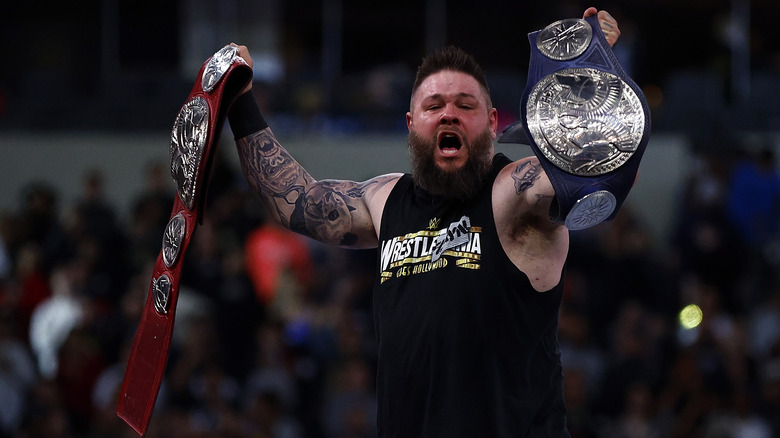 Ronald Martinez/Getty Images
When Kevin Owens was left off the WWE Elimination Chamber card in his hometown of Montreal, Quebec, Canada, the former WWE Universal Champion was content in supporting his friend Sami Zayn in his main event match against Undisputed Champion Roman Reigns. In a new interview with Ariel Helwani and TNT Sports, Owens says the snub reminds him of a similar situation in 2019.
"When I wasn't on WrestleMania 35...I did not understand why," Owens said. "I understood plans had changed, I was fine with it but I kept trying like 'What else am I gonna do?'" Owens says that WWE Creative was unable to find a place in the show that would fit Owens naturally. "It was driving me insane."
Owens says he approached Paul Heyman at a TV taping, and Heyman gave him some interesting advice. Neither man could believe Owens's lack of prospects.
"I'm like 'What do I do?' [and Paul says] 'just walk in there and threaten to quit.'" Owens says he didn't want to handle things that way.
"I couldn't go to WrestleMania 35," Owens confessed, admitting that he attended his scheduled promotional appearances, but unlike Elimination Chamber, flew home so that he wouldn't have to go to Giants Stadium and not participate. "I didn't want to be anywhere near it."
Owens's fortunes eventually turned around. Not only did he wrestle Seth Rollins at the following WrestleMania, but he main evented night one of WrestleMania 39, teaming with Zayn to dethrone WWE Undisputed Tag Team Champions The Usos.