Paul Heyman On 'Every Microsecond' Of WWE Saga With Roman Reigns Being Career Highlight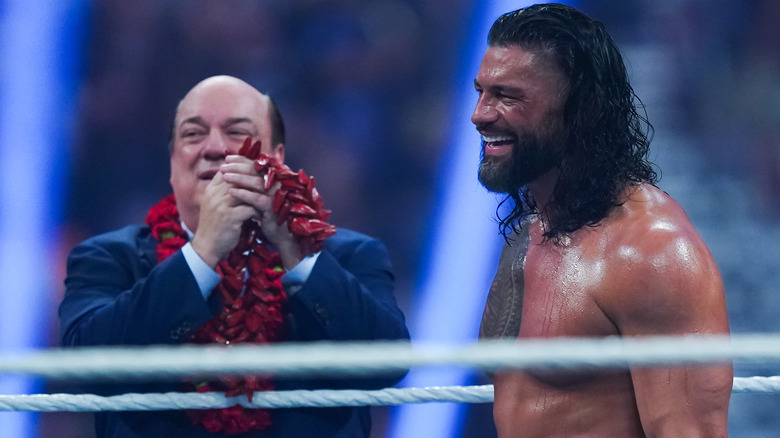 Alex Bierens De Haan/Getty Images
From Studio 54 to the ECW Arena to Brock Lesnar to Big Show (and then back to Brock Lesnar) to Roman Reigns, Paul Heyman's road to this past Saturday's SummerSlam in Detroit, MI has been a long and winding one and the former ECW promotor could not be happier with his current run managing the Undisputed WWE Universal Champion.
"Infinitely proud of every match that he's had. Infinitely proud of the stories that he tells," Heyman said during the post-SummerSlam press conference, following Reigns's win over his cousin Jey Uso in the main event. Heyman believes that The Bloodline saga has broken new ground in subtlety, saying how happy he is that the story isn't based in trash talking and grandstanding, but instead quiet, menacing moments where Reigns or Heyman or both are able to use the opponents' past to get under their skin. Heyman believes that –outside of Brock Lesnar– there are no Division 1 athletes that match Roman's level of athleticism and performance ability.
"But I have found that every frame, every microsecond, 24 frames or 30 frames per second, that I share with Roman Reigns is a career highlight for me," Heyman said, making sure to acknowledge that Reigns is the one carrying the storyline. 
"He's taken over that persona," Heyman gushed. "He's stepped into the skin, and I would dare anybody to sit there and say I'm 'cutting a promo,' because look at the track record."
Reigns has been WWE Universal Champion for 1,066 days, unifying the title with the WWE Championship last year at WrestleMania 38. To celebrate Reigns's 1,000th day as champion, he was presented with a third, gold belt.