AEW's Tay Conti Explains Why She Didn't Invite Many Wrestlers To Her Wedding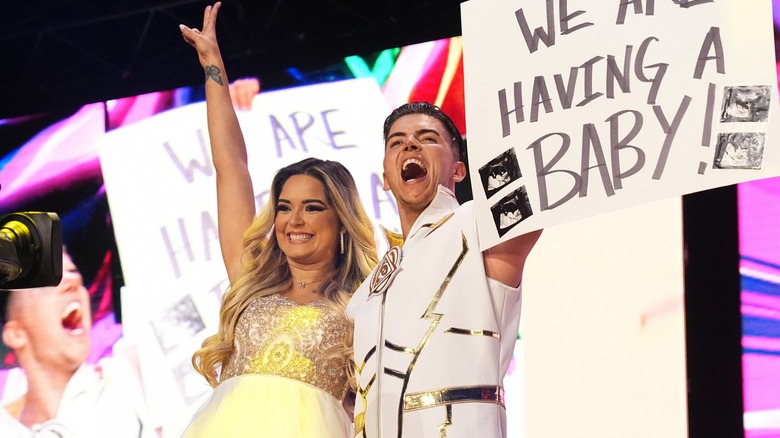 AEW
AEW stars Tay Conti and Sammy Guevara tied the knot in August 2022, seven months after the start of their relationship, and are currently expecting their first child together. Their wedding was a spectacle attended by the likes of Tony Khan, Shawn Dean, and WWE star Nikki Cross, but there were some notable omissions on the guest list when looking at the AEW roster. 
Conti had the chance to address that during her recent appearance alongside Sammy Guevara on "Hey! (EW)", when asked by host RJ City why he wasn't invited. 
"Am I supposed to be honest? I didn't like you, okay, but I changed my mind." 
The host then bantered with her, saying that he could have won her over at any point, before continuing to note that there were some wrestlers. However, he understands that they wouldn't want a whole gang vomiting on the flower girl. He then asked her what process she used to decide who to invite. At the time, the couple were generating heat en masse, from fans and members of the roster alike. So much so, their backstage presence received focal attention on the reality series, "AEW: All Access." Conti pointed to that fact as the reason. 
"As you said, not many people liked us, so super easy." 
RJ then said that the hashtag of their wedding, "#Sammytiestheknot", denoted that Guevara was aiming to manipulate Conti for what he wanted. To which Guevara just laughed and said "What the f***?" The entire interaction was purely comedic, fitting into the generally satirical nature of the show.