Brandi Rhodes On Reaction To Husband Cody's Injury In WWE: 'Oh, Thank God'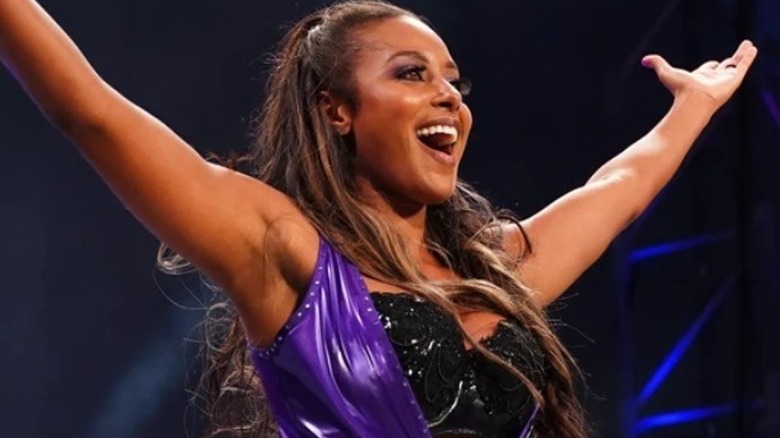 AEW
There was a lot of immediate concern for Cody Rhodes last year when he tore his pectoral muscle prior to his Hell in a Cell match against Seth Rollins. But one person who didn't have that concern was his wife, Brandi Rhodes, though for a good reason. During an appearance on "Insight With Chris Van Vliet," Rhodes revealed that when Cody broke the news to her about his injury, he did so in a way that had Rhodes worried it was related to their daughter.
"It's so disappointing on my part because he called and he said to me, 'Don't panic,'" Rhodes said. "And immediately I thought, 'The baby fell. Something happened there at the hospital.' So I went, 'Oh my god, what what what what what? Just tell me.' And he goes, 'I think I tore my pec.' And I said, 'Oh thank god. You'll be fine. The baby, though.' But then of course I was like, 'Did you really, are you sure?' And yeah, he had torn it."
Rhodes also revealed that she wasn't bothered by Cody's decision to work the Hell in a Cell match against Rollins, despite his injury. In fact, she supported it and empathized with his situation.
"I was that person that wanted him to," Rhodes said. "And I did check with Doc Eamon to make sure that I was giving sound advice. And I was like, 'Well if nothing really worse can come of the situation if you feel okay with it, then I'm giving my blessing too.' I was a performer, so I know the feeling. If you can, you want to make it happen, and those people are counting on you. People bought tickets for the show, to see the main event with Cody and Seth. So yeah, if you can do it, do it.'"
If you use any of the quotes in this article, please credit "Insight with Chris Van Vliet" and provide an h/t to Wrestling Inc. for the transcription