ECW Vet Mikey Whipwreck Breaks Down Parts Of AEW Dynamite He Says Don't Make Sense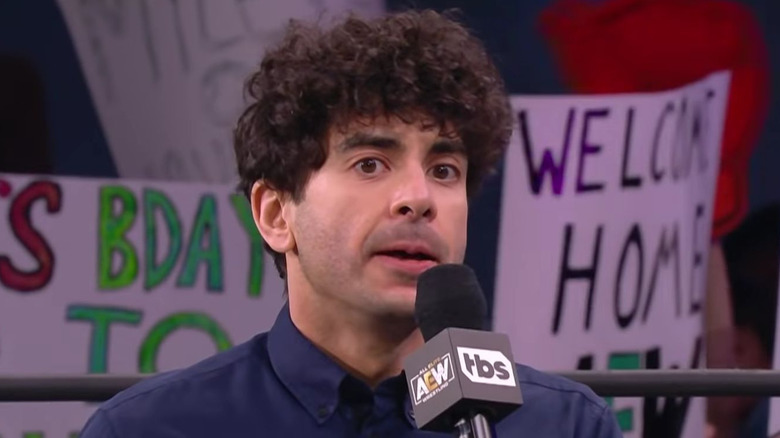 AEW
Former ECW Tag Team Champion Mikey Whipwreck was not impressed by the latest episode of "AEW Dynamite." On "Busted Open Radio," Whipwreck laid out his criticism of "Fight For The Fallen" plainly. "I was watching the Texas Chainsaw Match and at one point the babyfaces are beating the s**t out of Jarrett 4-to-1," Whipwreck said, saying he didn't understand why Jarrett's heel allies were running off the babyfaces and saving the villain. Whipwreck believes it should've been the other way around, with the babyfaces saving Jeff Hardy from Jarrett and his goons.
"I liked the tail end of the promo with Adam Cole and MJf. I hate to say it but I didn't really 'like' anything. The execution was wonky," Whipwreck explained, saying that both the content was confusing, as well as the slapdash presentation, also not understanding why The Young Bucks cheated to defeat the Gunns despite being babyfaces.
Whipwreck was not the only former ECW star that took issue with last night's "AEW Dynamite," as both Bully Ray and Tommy Dreamer said they felt much of the show blurred together, with too many run-ins making the segments feel too similar. Dreamer believes that AEW needs a professional that knows when to cut things for time, so they don't find themselves rushing through important plot beats. While Whipwreck didn't like the Texas Chainsaw Massacre Deathmatch between Hardy and Jarrett, Warner Bros Discovery was reportedly very happy with the match, booked to promote the upcoming video game based on the hit horror franchise.