Brian Gewirtz: The Rock Appearing In WWE During SAG-AFTRA Strike Would Be A Bad Look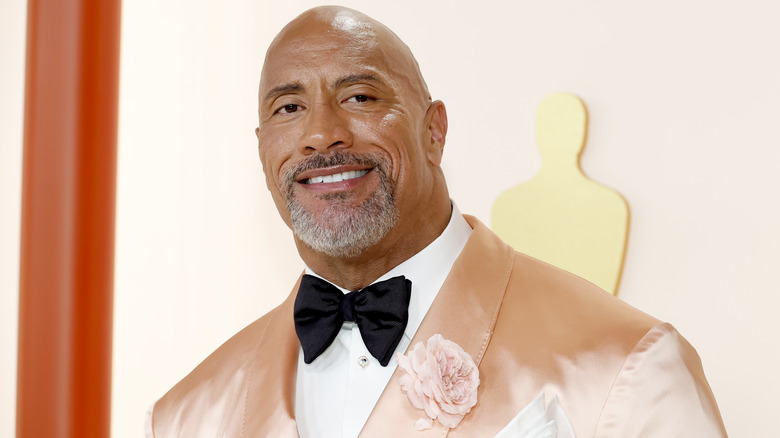 Mike Coppola/Getty Images
While professional wrestling has been unaffected by the ongoing SAG-AFTRA strikes, former WWE writer Brian Gewirtz has some reservations about Hollywood actors possibly appearing on WWE programming during this time. Gewirtz recently chatted with "The Ringer Wrestling Show" to explain why wrestlers-turned-actors like Dwayne "The Rock" Johnson, Dave Bautista, and John Cena should shy away from returning to the WWE product right now, even with their ties to the company.
"Even though WWE is not affiliated with any of the guilds and not affiliated with SAG, I still think it's a bad look for a prominent actor like The Rock, Cena, Batista to appear on an entertainment program while there's a strike going on, while people are not getting paid and are striking and picketing every single day," offered Gewirtz. "Yes, it's not the same, but it's also like appearing on television in an entertainment capacity. It's just not a great look when there's a strike going on, for one thing."
In further discussing the manner, Gewirtz indicated that while it may not be wise for Johnson to appear on WWE television in the imminent future, he is confident that his good friend will return to the company at some point and likely factor into the saga revolving around The Bloodline.
"I would be shocked if The Rock appeared anytime soon while the strike is going on, but I would be equally, if not more shocked, if Rock never appeared in a WWE ring again, and figuring in [The Bloodline] storyline at some point, too. But everything needs to be crafted and discussed and thought about," Gewirtz said.
As the SAG-AFTRA strikes continue, it is worth noting that Johnson reportedly donated a seven-figure sum to the SAG-AFTRA Foundation in an effort to boost some financial support for the strikers amidst this work stoppage.
If you use any quotes from this article, please credit "The Ringer Wrestling Show" with a h/t to Wrestling Inc. for the transcription.