Cash Wheeler Arrest Affidavit: AEW Star Allegedly Pointed Handgun At Victim In Traffic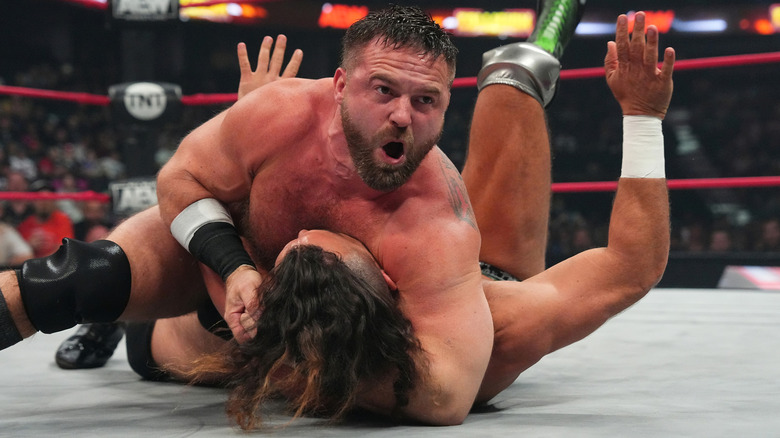 AEW
In light of the news of Cash Wheeler's arrest and his subsequent arraignment on the charge of aggravated assault with a firearm, the Orange County Clerk's Office has released the sworn affidavit from the complainant in the case. According to the statement made by Daniel Matta, Daniel Wheeler (Cash's real name) is alleged to have pointed a gun in his direction as part of a road rage incident on July 27.
The statement reads, in part, "[Victim Daniel] Matta stated he was driving west on Interstate 4 north of Exit 83. He noticed a Jeep Gladiator weaving in and out of traffic honking its horn, so he moved over to the far-right lane to let the Jeep pass. Matta said the Jeep took the right shoulder to drive around him on the passenger side of his vehicle. Matta looked over and noticed a white male with a beard pointing a black semi-automatic handgun out of the driver's window at him with a strong stare. Matta said he feared for his life at this time."
The victim goes on to explain that he tried to get out of the way and ended up behind the Jeep, taking pictures when it began to drive recklessly and calling 911 to relay the information. Officers created a photo line-up using an online database for investigative purposes, from which Matta identified Wheeler out of a randomized order of potential suspects.
Wheeler had been set to defend the AEW Tag Team Championships alongside partner Dax Harwood against The Young Bucks at All In. AEW has stated that they are aware of the charge and are closely monitoring the situation, making no assessment on Wheeler's status for the pay-per-view otherwise.