AEW All In Ticket Sales Have Reportedly Surpassed WWE SummerSlam '92, WrestleMania 32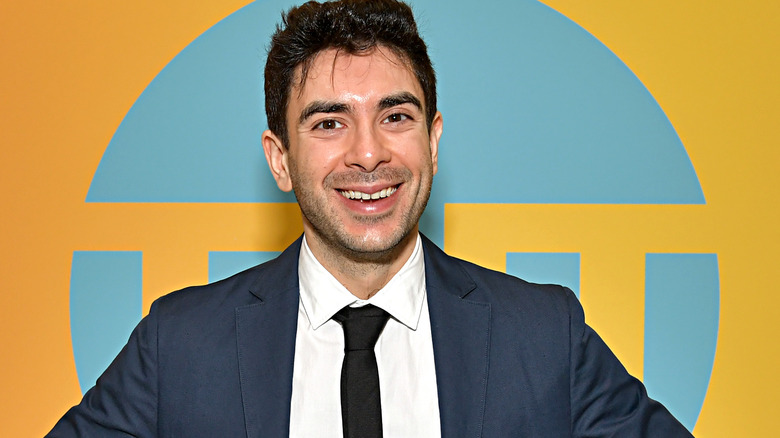 Emma Mcintyre/Getty Images
The numbers for AEW All In continue to be a major success for the company, with the latest report on ticket sales placing the event ahead of two iconic WWE shows. The event at Wembley Stadium on August 27th has now sold over 80,000 tickets, with fans from all over the globe set to flock to the UK's most famous venue. With the likes of CM Punk, MJF and Kenny Omega all slated to compete on the card — as well as England's own Will Ospreay — All In promises to be the biggest and boldest show in the company's four-year history.
A report from "Wrestling Observer" on Friday indicated All In had surpassed WWE SummerSlam 1992 with 80,544 tickets distributed, but now it appears the other major hurdle for AEW to jump over has been confirmed, as well. According to "WrestleTix", there have now been 80,846 distributed for All In, putting it ahead of WrestleMania 32 in Arlington, Texas. 
AEW ALL IN
Sun, 27 Aug 2023, 18:00
Wembley Stadium, London

Available Tickets => 4,626
Current Setup => 85,472
Tickets Distributed => 80,846 (+790 since last update)

This passes the 80,709 number set by WWE at WrestleMania 32 at AT&T Stadium in Arlington, TX. pic.twitter.com/LPpE4KFVVz

— WrestleTix (@WrestleTix) August 19, 2023
The report from the Observer noted that tickets out and the number of people in the building are different statistics, which means All In may not end up with a bigger official attendance number than WWE. In order for AEW to break the highest paid attendance and gate number, approximately 4,800 additional tickets will need to be sold in order break the actual paid attendance mark over the next nine days. WON indicated that the recent SummerSlam premium live event in Detroit sold 4,000 tickets in the final four days, but business in the sports entertainment powerhouse is booming off the back of The Bloodline saga and Cody Rhodes. 
With just one episode of "AEW Dynamite" and two episodes of "AEW Collision" remaining prior to the pay-per-view in London, the match card is close to being cemented, with the clash between Samoa Joe and CM Punk expected to be confirmed in the coming days.