Jeff Jarrett Reflects On Texas Chainsaw Massacre Death Match On AEW Dynamite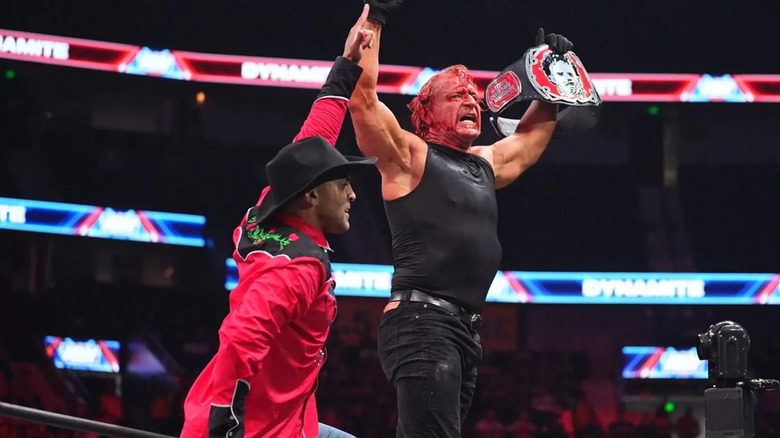 AEW
The August 16 episode of "AEW Dynamite" will be remembered by fans due to having one of the most divisive bouts in AEW history take place, the Texas Chainsaw Massacre Deathmatch. Jeff Jarrett and Jeff Hardy battled it out in a bloody encounter that saw horror icon Leatherface (played by enhancement talent Dean Alexander) get involved, and to say it split opinion online would be an understatement. In response, participant and WWE Hall of Famer Jarrett has taken to his podcast "My World" to discuss the sponsored contest.
"The biggest disappointment I would have had by far, and I told Karen [Jarrett] this is if there would have been no feedback," Jarrett said. "The point that there was people that this made them so divisive that somebody cared so much or cares so much about the AEW brand that they tuned into Twitter or Instagram. And that's another point. Twitter is much more divisive, and I'll call it mean-spirited, than Instagram ever thought of because you kind of read the different comments. And YouTube, that's a different audience, too. But Conrad [Thompson], I really thought that way, the sponsor's exact words, 'incredible, way over delivered.' Okay, so that's a win."
Jeff Jarrett Loved The Match, Despite Detractors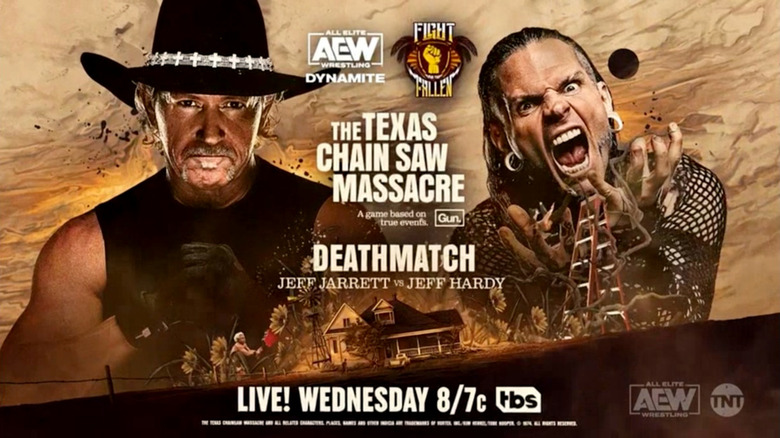 AEW
Jarret continued, "Some people just didn't like it. But I loved it. I thought it was an honor to be in that type of integration. It was definitely out of the box. I thought Jeff Hardy and his entire crew ... executed it [well], and I'm not a horror movie guy, but Leatherface, that clip of him walking down the aisle and throwing the chainsaw, and he was supposed to be on our side, but Sonjay got his a** kicked, and Karen got ran off, and all the know, that's a nice shot right there of Karen. Just look at the images in the background, production across the board. It was a grand slam in so many ways. And for those that don't like this kind of stuff, I will say this without question. It certainly will make you appreciate more your four and five-star matches. So, yes, it actually served a purpose to you as well."
Jarrett would speak more about the match as his podcast progressed, and revealed the $100,000 amount, which the Wrestling Observer's Dave Meltzer reported AEW was paid was "way low, it blew me away." Considering WWE was paid a reported seven figures for their partnership with Netflix's "Army of the Dead" at WrestleMania Backlash," that does make more sense. Ultimately, though, all the money Tony Khan received for the match went to the Maui Food Bank, which will help feed the hungry in Maui County following the wildfires.
If you use any quotes from this article, please credit "My World with Jeff Jarrett" with a h/t to Wrestling Inc. for the transcription.