Matt Hardy Addresses The Idea Of Edge Leaving WWE For AEW At Length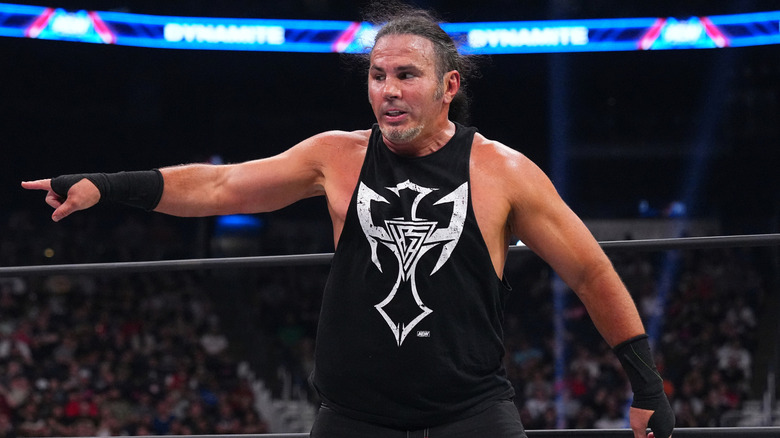 AEW
With Edge (real name Adam Copeland) claiming that he's wrestled the final match on his WWE contract, rumors have emerged stating that Copeland may be open to a run in All Elite Wrestling. One of Edge's former rivals, Matt Hardy, seems to think it's a real possibility. Speaking on his podcast, "The Extreme Life of Matt Hardy," the AEW star shared his thoughts on Edge's potential destination.
"If he isn't going to re-sign or re-up with WWE, I think he has more left in him," Hardy said. "I could see him coming to AEW, especially on a lighter schedule, maybe getting a little more say in ... what you do. I could see that happening. ... I still think there's a possibility he could still return to WWE. I wouldn't rule that out, either."
Hardy then went on to state that when he's asked about who he'd like to face as his final opponents, his answer is always teaming with his brother against Edge and Christian Cage. The two teams came up around the same time in WWE, and shared a number of legendary matches together that helped take their careers to new heights. With Cage and both Hardy brothers already in AEW, the only piece of the equation missing would be Edge.
An Impending Retirement?
From there, Hardy continued to address Edge's current status, including the WWE star's possible upcoming retirement. Hardy joked that Copeland bringing up retirement soon is simply a part of the business.
"Aw, s**t. That's a work," Hardy said. "I've been doing that since 2016." Hardy soon pointed out that Edge currently has the benefit of having taken nearly a decade off, giving his body time to refresh. This could give him some added longevity in the ring. Additionally, Copeland was able to spend lots of time with his family during some very formative years for his children. Hardy then discussed what a major deal it would be for AEW to land a star of Edge's caliber.
"I think to have Edge, who is ... a WWE lifer, which most people figured and assume, and a guy who was a multiple-time world heavyweight champion, a guy who accomplished all these firsts, had a stellar career, [has] done all these amazing things, did this incredible comeback — it would be a huge deal to AEW," Hardy continued. "It is good for the healthiness of pro wrestling because you have a major star leaving WWE and choosing AEW instead."
Edge As A Performer
With Edge possibly becoming a co-worker of Hardy again soon, the AEW star began running down some of the things that make Edge special.
"[Edge's] work ethic ... speaks volumes about him as a person, as a performer," Hardy continued. "Obviously I worked with him many, many times. We would really think about things in detail, and we would go out and try and present a match that was going to steal the show, you know? And I know he thought like that as well."
Hardy then revealed that, while his brother Jeff typically lets Matt put together most of the plan behind matches, both Edge and Christian worked together to come up with their matches. Another big benefit of Edge as a performer (and Cage as well) is that he can be presented as a massive star either in the singles division or alongside Cage as a tag team. Wherever Copeland decides to go next, Hardy doesn't believe he's done.
"Much like me, he loves professional wrestling," Hardy stated. "If he can do it, and he feels like he can do it on a very high level, I think he still wants to do it."