Video: Dave Bautista Gets Everyone Hyped In New Mortal Kombat 1 Trailer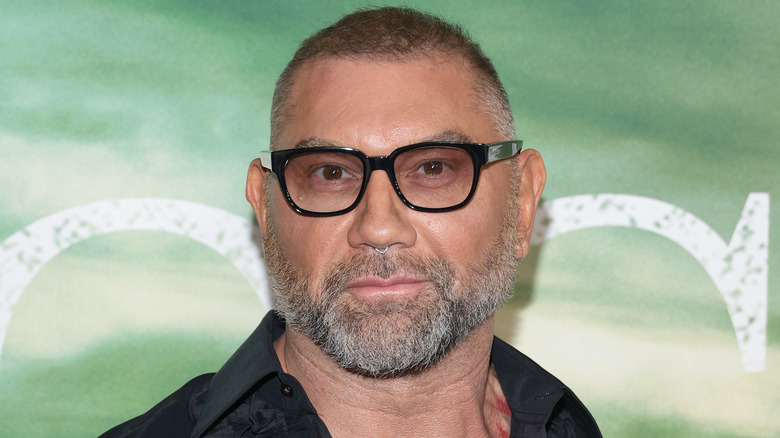 Dimitrios Kambouris/Getty Images
The latest trailer for the next Mortal Kombat installment, "Mortal Kombat 1," dropped today, and the video stars actor and former WWE star Dave Bautista (via YouTube). The trailer sees Bautista inspiring individuals from across a city to join him, with narration from the "Guardians of the Galaxy" star teasing new alliances and re-written legends in the Mortal Kombat universe.
While Bautista isn't currently set to be playable in the game, there is a strong wrestling connection in "Mortal Kombat 1." John Cena's Peacemaker is set to be available as downloadable content, joining Homelander from "The Boys" and Omni-Man from "Invincible." 
The game is set to release on September 14, 2023, and will serve as something of a reboot for the franchise. It will include new versions of classic Mortal Kombat characters, with Liu Kang, Johnny Cage, Sub-Zero, Scorpion, and more confirmed for the base roster. Fans who pre-order the game will also have access to Shang Tsung as a playable character. According to GameSpot, "Mortal Kombat 1" takes place in a new timeline created by Liu Kang at the end of the last game, after the protagonist attained godhood.
Cena debuted as Peacemaker in James Gunn's 2021 film "The Suicide Squad," with the character becoming a fan favorite in the wake of the movie. Less than a year later, a new series starring Cena as Peacemaker debuted on HBO Max (now known simply as Max). Though Gunn is quite busy as the new co-head of DC Studios, there are still plans for a second season of "Peacemaker" in the future.