Backstage Details On WWE's Reported Plans For Bray Wyatt WrestleMania 40 Match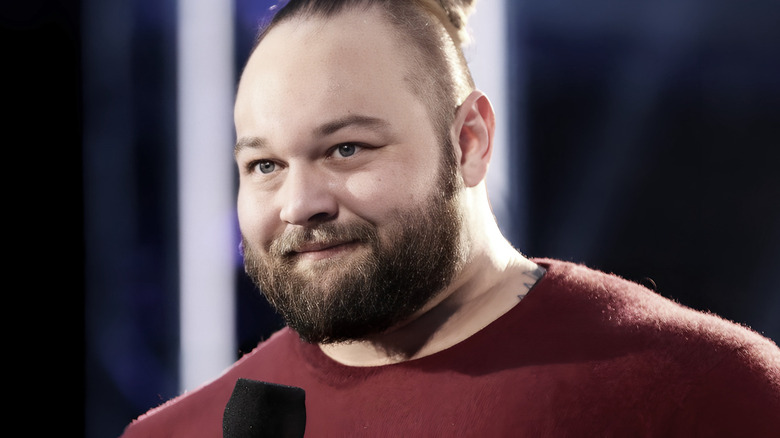 WWE
Earlier this month, it was reported that Bray Wyatt was set to return to WWE with September being touted as a possible comeback date. Sadly, Wyatt died from a heart attack on August 24, aged 36, and left the wrestling world in a state of shock. That said, it seems that WWE was anticipating his eventual return to action, as the promotion's creative department was reportedly toying with ideas for his WrestleMania 40 match.
According to the "Wrestling Observer Newsletter," WWE reportedly planned on having Wyatt face Uncle Howdy — the masked wrestler who's supposedly portrayed by Wyatt's brother, Taylor Rotunda aka Bo Dallas — at WrestleMania 40. However, those plans were dropped as Howdy wasn't being pushed at a high enough level to warrant a WrestleMania match against Wyatt.
Howdy and Wyatt had been engaged in an on-again/off-again program since Wyatt's return to WWE in 2022. The masked character tormented Wyatt for months, though he occasionally took his side, as evidenced by the time he attacked LA Knight during the Pitch Black match at WWE Royal Rumble 2023. The storyline seemed like it was only really getting started, and it remains to be seen if Howdy will ever return to WWE television in any capacity.
The "Wrestling Observer Newsletter" report also states that WWE had plans for Wyatt and Alexa Bliss to have another program together, with the latter set to portray a monster gimmick. Unfortunately, Wyatt's illness and subsequent absence from the company, coupled with Bliss' pregnancy, meant those plans never came to fruition either.