Bryan Danielson On Working AEW Collision Regularly, Taking On Larger Role Backstage
AEW
Prior to his injury in June, which took him off the road, reports emerged that Bryan Danielson had begun playing a large role on the creative end of "AEW Collision." Following yesterday's AEW All Out pay-per-view, which saw Danielson return from injury in an excellent match against Ricky Starks, the AEW star appeared at the media scrum and discussed the difficulty of balancing family life with his desire to stay involved behind the scenes.
"It's hard, because I love [the creative] aspect of it so much, but I also love being with my family, and going to shows takes you away from your family," Danielson said. The AEW star then shared that his wife, former WWE star Brie Garcia, watched tonight's show with their children. While their three-year-old son loved it, Danielson noted that it did disturb his six-year-old daughter to a degree.
"She says to me things like this: 'Daddy, you're gonna be done wrestling when I turn 7, right? You're gonna be home every day when I turn 7,'" Danielson continued. "And that's really hard to turn down, right?"
While Danielson once counted professional wrestling as "one of the most important things in his life," he is now a married man with two young children. The former world champion said he is still very passionate about wrestling, but it's clear Danielson will always prioritize his family, and playing a major role in AEW creative could jeopardize that.
'I've got a lot of thinking to do'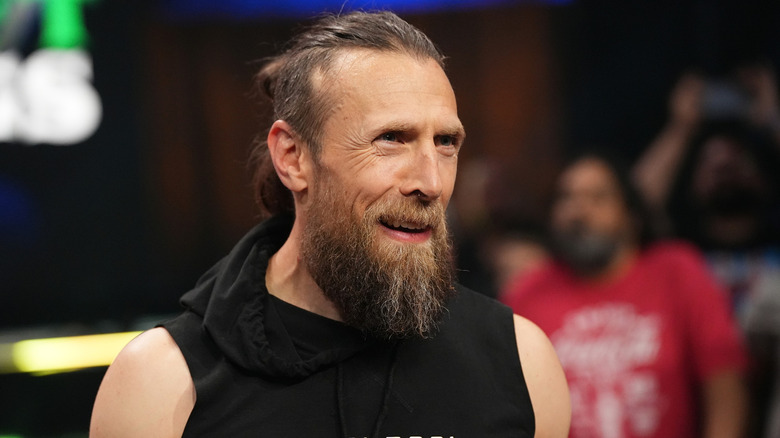 AEW
Still, Danielson hasn't quite given up on the possibility of taking on a larger role in creative. The AEW star just made it clear it's something he'll have to carefully consider.
"All of that to say, I've got a lot of thinking to do," Danielson said. "That's not a no, it's a, 'How do I make this work while still keeping the meaningful things in my life — the things that I find important — putting them as a top priority?'"
AEW co-owner and booker Tony Khan pointed out that "Collision," which runs on Saturday nights, may end up being more favorable for Danielson's schedule. This could indicate that he'll be popping up on "Collision" more than "AEW Dynamite" on Wednesdays. While his family is rightfully his first priority, last night showed in a variety of ways that Danielson loves wrestling. The Blackpool Combat Club member also took some time in the scrum to discuss what drives himself and his fellow BCC performers to go above and beyond in AEW.
"One of the ethics I believe in is you step up when you need to step up," Danielson stated. "Us as the BCC, who are a collective, who are real friends — we take stepping up seriously, whether that is in story or in real life. And I think nobody is a better example of that than Jon Moxley, who has stepped up every time that we need him to. ... I just see it as kind of a way of life for us."