Orange Cassidy On AEW International Title Run, All Out Main Event With Jon Moxley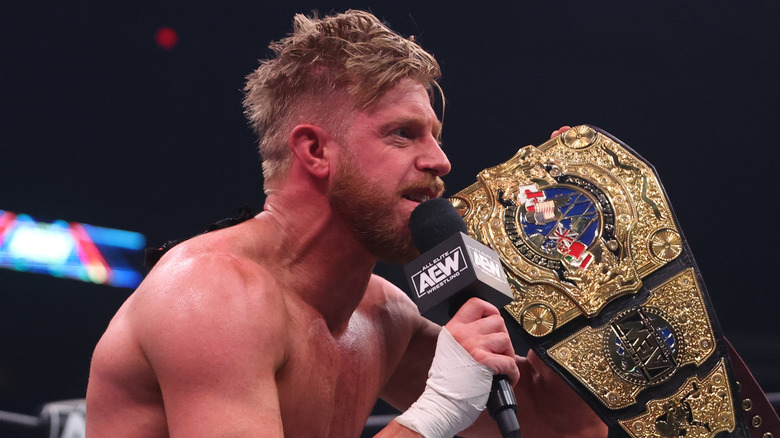 AEW
This past Sunday at AEW All Out, Orange Cassidy defended the AEW International Championship for the 32nd time, facing Jon Moxley in the main event. After almost a year of holding the title, Cassidy lost. The pay-per-view went off the air with the AEW performer in the center of the ring, bloodied and exhausted, having put everything he could into defending the title over the last 11 months. Speaking to Sports Illustrated after the match, Cassidy opened up more than usual while discussing his reign.
"I viewed it as a vehicle to have matches with people who didn't normally get the spotlight," Cassidy said. "I've been in AEW since the beginning. I've wrestled on 'Dark,' I've wrestled on 'Rampage.' I see the talent we have in the locker room, and I wanted to give an opportunity for the hardest working guys to show out."
After winning the title (known at the time as the AEW All-Atlantic Championship) from Pac in October of last year, Cassidy went on a tear of impressive, hard-fought matches, nearly all of which were on TV rather than pay-per-view. Cassidy faced Katsuyori Shibata, Jake Hager, Kip Sabian, Lee Moriarty, Buddy Matthews, Daniel Garcia, and many more members of the AEW undercard over the past year.
The champion's match against Jeff Jarrett in March seems, in hindsight, like a turning point for Cassidy, as his many defenses began catching up with him. That storyline culminated Sunday, with Cassidy's defeat at the hands of one of the company's top stars.
Cassidy vs. Moxley at AEW All Out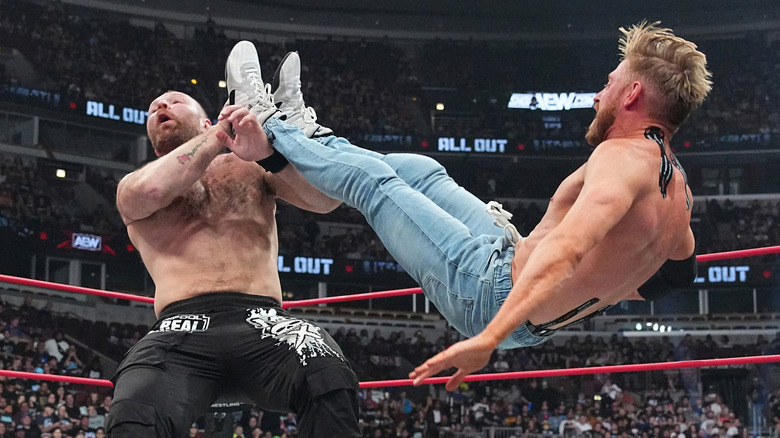 AEW
Cassidy's first singles pay-per-view main event in AEW lasted just under 20 minutes, with the champion even kicking out of Moxley's well-protected finisher in order to try and retain. Looking back on the match, specifically its conclusion, Cassidy credits the company's fans for getting him there.
"My trajectory through AEW is only because of the AEW fans," Cassidy stated. "I appreciated the moment they gave me. They did that for me, but it wasn't just for me. It was for them, too. They're the reason I was covered in blood. I wrestle for them. They make our company run, and I don't think we give enough credit for what they do."
In addition to the fans, Cassidy had highly complementary things to say about his opponent on Sunday. The AEW star seems to echo the sentiment others have expressed in the past about Moxley acting as a role model for the locker room.
"That's the guy who put AEW on his shoulders when we needed carrying," Cassidy continued. "The respect I have for Jon Moxley is immense. He leads by example, and his presence and actions make us better professional wrestlers and better people. And yes, when you're in a ring with him, you're going to bleed."
Cassidy also noted that, while he bled in Sunday's match, Moxley did not. That was despite Cassidy's best efforts.
"For a guy who bleeds as much as Jon, I couldn't get him to," Cassidy said. "I don't know what that says about me."