Arn Anderson Describes Craziness Of Watching WWE HOFer Terry Funk From Ring Apron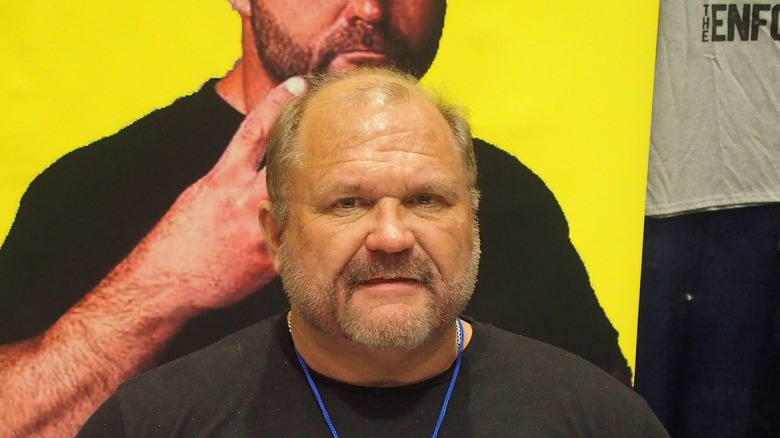 Bobby Bank/Getty Images
While Arn Anderson and Terry Funk are both considered legends in the wrestling business and did, in fact, work together, it wasn't as often as people would think, and only occurred during the mid-90s for both WCW and ECW. But their time working together was fruitful, as both Anderson and Funk were members of the Stud Stable, led by Colonel Rob Parker, and featuring other notable talents such as Dick Slater, and Meng. On "ARN," Anderson discussed his time in the Stud Stable with Funk, who sadly died just a few weeks ago at the age of 79, after a long battle with numerous health ailments. And while Anderson pointed out they didn't get to team as much as he hoped, it was still quite the memorable experience.
"It was limited," Anderson said. "It was just a few times or wasn't very long. But I just ... when you're up on the apron watching him do all that stuff, it's even crazier than when you're watching on TV or sitting in the audience. You could just tell that nobody was home. You could look in those eyes, and nobody [was] there. And that was a blessing I guess, and maybe a curse sometimes. Who knows?"
All in all, Funk and Anderson would team together seven times during 1994, once in ECW and six times in WCW, in both tag team action and multi-man tags with the rest of the Stud Stable. Unfortunately, the duo didn't have the success Anderson would have with other tag teams over his career, compiling only a 2-5 record overall.
If you use any of the quotes in this article, please credit "ARN" and provide a h/t to Wrestling Inc. for the transcription