Pat McAfee Is Confident He'll One Day Rejoin Michael Cole At WWE Commentary Desk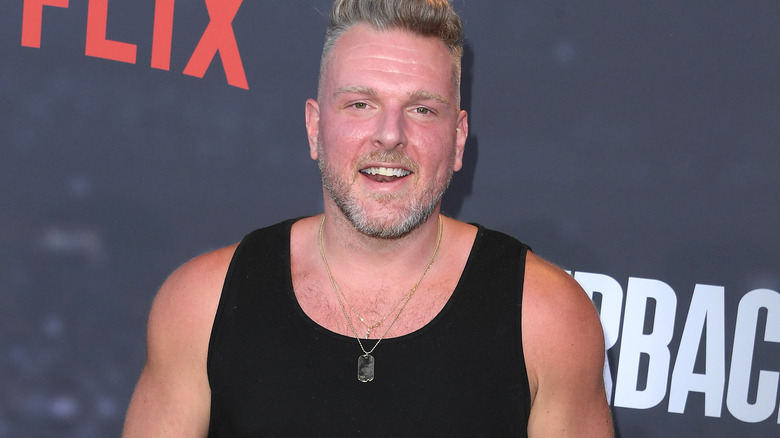 Steve Granitz/Getty Images
Friday's episode of "WWE SmackDown" featured not one, but two surprise returns as Dwayne "The Rock" Johnson and WWE announcer Pat McAfee opened the show to thunderous ovations. "SmackDown" also provided McAfee with an opportunity to reunite with his former broadcast colleague Michael Cole. During a "SmackDown" digital exclusive, McAfee gave his thoughts on the new "casual" Cole who has recently been balancing double commentating duties for "SmackDown" and "WWE Raw."
"I love it," McAfee said. "He always has to be the buttoned-up guy, doing the play-by-play, which he is the greatest of all time, bar none. I understand there's a conversation for some other people, but they haven't been paying attention close enough. What Michael Cole has done throughout his career at the WWE is second-to-none. But now he's got a little attitude, a little spice, a little personality. He looks unbelievable. I'm incredibly lucky that I got to work with Michael Cole, and I am still very confident that it will happen again."
Prior to his decision to step back from his role as WWE broadcaster in September 2022, McAfee worked closely alongside Cole on "SmackDown," with McAfee performing as the color commentator while Cole provided play-by-play coverage. While McAfee's WWE appearances have been sporadic since then, Cole previously promised his former announcing partner that he wouldn't retire from his position until McAfee returned for another run behind the desk with him. With that promise in mind, McAfee seems even more determined to chalk up at least one more stint with the man he described as "the greatest of all-time."
H/T to Fightful for the transcription.