Jim Ross Disputes DSOTR As To Why Junkyard Dog Left Mid South Wrestling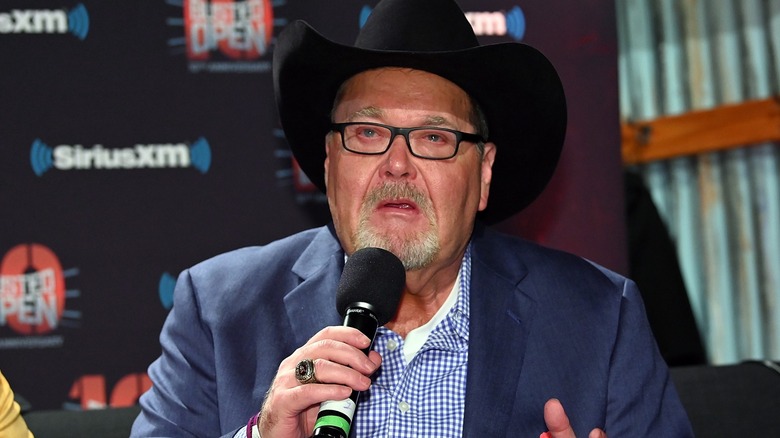 Slaven Vlasic/Getty Images
Vice TV's "Dark Side of the Ring" has never shied away from controversial subjects that have lingered in the pro wrestling lexicon. But the latest season seems to have touched a nerve with several in wrestling, with Bruce Prichard in particular going out of his way to criticize the program. Now Jim Ross also has some points of contention with DSOTR.
On the latest episode of "Grilling JR," Ross discussed a Season 4 episode which focused on The Junkyard Dog. Ross and the Junkyard Dog worked together during their time in Bill Watt's Mid-South Wrestling. In particular, Ross was asked if JYD had left Mid-South due to overhearing a racial slur from Watts — something insinuated by DSOTR" episode and something Ross quickly denied.
"Dog left for more money," Ross said. "He saw the opportunity to increase his income — I don't want to say tenfold — but it was up there. Right out of the gate, when you can become the first African American action figure, things like that can accumulate to income. And Dog had worked hard and, you know, he was kind of sparring with the devil on his drug use." 
"So he made some bad decisions. He left without notice," he continued, "and it wasn't because of a racial epitaph said or some bulls**t like that. He simply had the opportunity to go be the No. 2 or 3 babyface in the biggest company in the business, and that was going to mean he was going to make a whole hell of a lot more money. And he had six-figure royalty checks for his action figures, things like that."
If you use any quotes from this article, please credit "Grilling JR" with a h/t to Wrestling Inc. for the transcription