Why Booker T Isn't A Fan Of Bobby Lashley And The Street Profits Teaming Up In WWE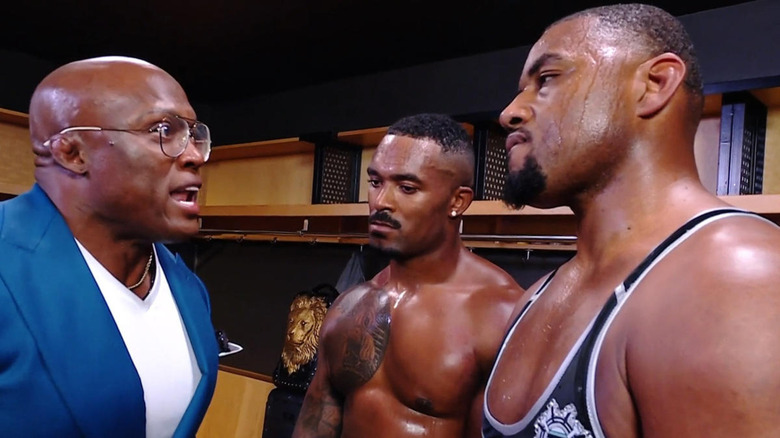 WWE
Booker T seems to be unimpressed with the new pairing of Bobby Lashley and Street Profits and pointed out what they should do to turn things around.
In a recent edition of "The Hall of Fame" podcast, the "WWE NXT" commentator feels that the Street Profits need to be more aggressive if they want their faction with Lashley to be a success.
"I'm still conflicted with, you know, Street Profits and Bobby together. I mean it's a great combination, you know, they got a lot in common. Let's just say that they're all brothers," joked Booker T. "But, I don't know, I'm not too fond of the group just because I'm looking for some Deion [Sanders.] I'm like coach Prime, I'm looking for some dogs, man, and if you ain't one of them dogs, you might want to start applying to another university."
He also shared some advice he had given Street Profits, encouraging them to "ditch the cups," referring to their solo cups, and adopt a more serious persona.
"I've been telling Street Profits they need to turn into some dogs. Ditch the cup, all right? What's in the damn cup? So that's my thing, it's time to start putting the Hurt Business on the map. It's time to bring the pain if you're gonna bring the pain, and quit messing around, you know, and jiving and messing around," said the veteran.
Lashley invited the Street Profits to join him for a conversation in July, and a month later, the former "WWE SmackDown" Tag Team Champions featured alongside Lashley on "SmackDown," thereby turning heel. Since teaming up with Lashley, the duo has faced Butch and Ridge Holland, Karl Anderson and Luke Gallows, and most recently, Rey Mysterio and Santos Escobar, on the blue brand. 
Recent tensions arose within the group when the Street Profits suffered a loss to Mysterio and Escobar, leading Lashley to demand the return of their suits.