How Michael Cole Encouraged WWE Ring Announcer Samantha Irvin To Embrace Unique Style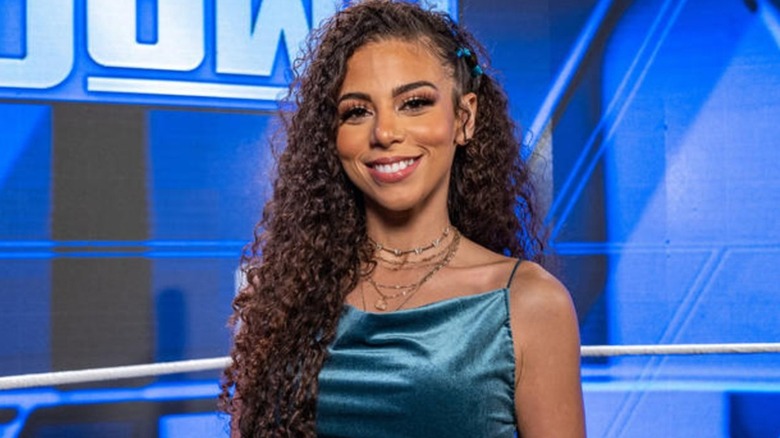 WWE
When Michael Cole took on the role of WWE's VP of Announcing in 2020, the WWE was navigating through the early wave of the COVID-19 pandemic and figuring out how to produce shows without the benefit of crowds — a key ingredient to the fabric of pro wrestling. To the credit of some, they used the circumstances of performing in front of empty arenas to sharpen their promo skills and evolve their characters or, in the case of Samantha Irvin, she got to workshop her unique announcing style before no one in the ThunderDome era. 
She wasn't sure if her style would translate in front of live audiences. But Cole's reassuring words gave her the confidence to experiment. "There were just a lot of things shifting at that time and Michael Cole just gave me the go-ahead," Irvin explained on the "Insight" podcast. "He was like, 'I want you to do your ideas, whatever your ideas are. I know you know, this is what we always have done.' But if something moves you, he's always been very supportive and given me a lot of credit."
Among the distinctive characteristics of her announcing style, Irvin uses unique enunciations to introduce certain WWE superstars and even changes her voice timbre depending on the character or nationality of a wrestler. Her introduction of Chelsea Green, in particular, is a representation of Chelsea's Karen-type character, and Irvin says that she initially toyed with the introduction without knowing it would stick.
"It was just because of her; it's just her. She came back, and her attitude and everything was just she was so sassy and I just loved it," Irvin stated. "And I just thought she's not, you know [flatly] Chelsea Green like, no, she's Chelsea Green! And it just, I did it one time. I think now it's like obviously now it's over the top but the first time I did it, I think I just was like Chelsea Green!"
Irvin revealed she actually worked backstage with Green on perfecting the unique introduction. "...Now she will not let me say it any other way. She helped me fine-tune it perfectly for her."