Zack Sabre Jr. Demands Rematch Against AEW's 'Brittle Bryan' Danielson, Names Venues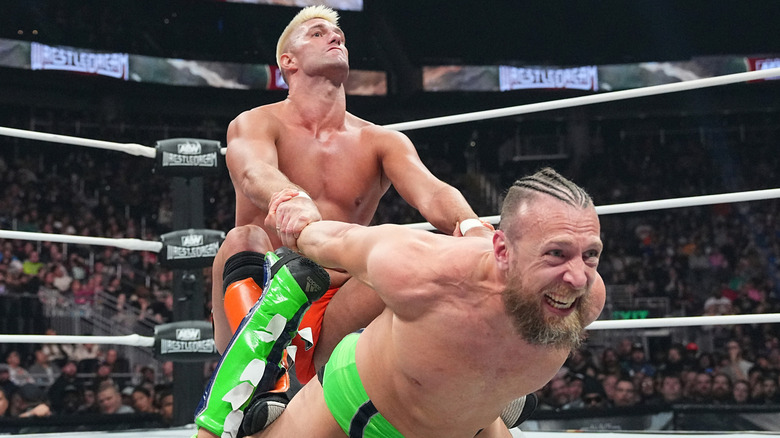 AEW
This past Sunday at AEW WrestleDream, Zack Sabre Jr. wrestled Bryan Danielson in a classic match. The bout came to an end not through submission, however, but from a pair of Busaiku Knee strikes from Danielson. Following his loss, Sabre stood backstage and shared a message for Danielson, indicating that he and "The American Dragon" still have some unfinished business.
"Bryan, I happily admit ... that you're one of the greatest wrestlers of all time," Sabre said. "I wrestled you in 2008. You put me on the map. For that, I'll be eternally grateful, but today — today, darling — we were supposed to settle something, weren't we? Who really is the best technical wrestler, not in the world right now but probably of all bloody time? But knocking me out, Bryan — that's a scoundrel move from 'Brittle' Bryan."
The NJPW World Television Champion relayed that he could feel Danielson's "brittle" bones breaking during their match on Sunday. Because their battle didn't end with technical wrestling, ZSJ then challenged Danielson to a rematch.
"We're gonna do the rematch in my home turf, England, or my adopted home turf of Japan," Sabre continued. "Because I did you the ... proper solid of coming to Seattle. Submission in Seattle, huh? But you didn't beat me by submission. ... Bryan, we'll find out in the rematch who the best technical wrestler in the world is, and I'll put you into retirement for good, d***head."
While another match between Danielson and Sabre is all but inevitable, the location seems to remain up in the air. AEW has already announced their return to Wembley Stadium in London, England next August. However, that's nearly a year from now, and Danielson has already confirmed his intent to step back from wrestling full-time around that timeframe.