Kevin Sullivan Names Big Way WWE NXT Works Better Now Than It Did Under Vince McMahon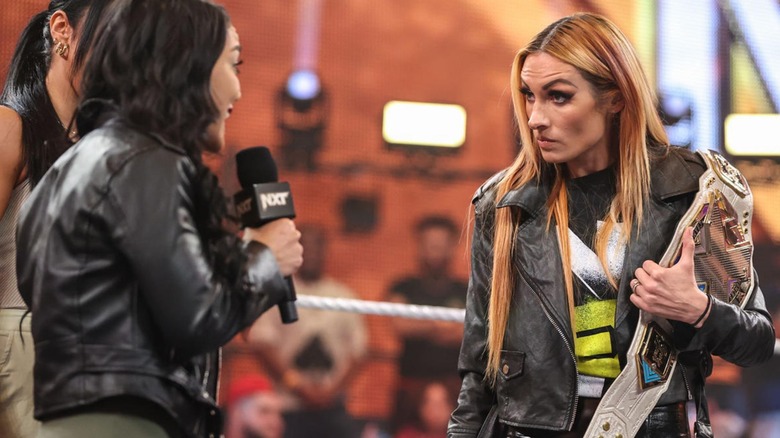 WWE
Considering that this week's "WWE NXT" drew its highest viewership since 2020, it's hard to argue that the current iteration of WWE's developmental brand is firing on all cylinders. Former WCW head booker Kevin Sullivan has attributed a lot of the brand's recent success to "NXT" Women's Champion Becky Lynch and her commitment to pulling double duty as a superstar on both "WWE Raw" and "NXT" on a weekly basis. 
"Here's what I like what they're doing: she [Lynch] went down to 'NXT' and wrestled for the title and also defended it on the major shows [such as No Mercy]. I think that's brilliant," Sullivan said on his "Tuesdaty With The Taskmaster" podcast. "There's been a complete pull the switch [in NXT] where the Earth has spun off its axis."
Sullivan admitted that he stopped paying attention to "NXT" until Lynch and Dominik Mysterio started appearing on the show, and during this timeframe, he has turned into an even bigger fan of Mysterio, whom he previously praised for coming out of his father's shadow and making a name for himself.
"One of the hottest guys in the business," Sullivan said of Mysterio. "They bring him down [from the main roster] and all of a sudden, eyeballs are on 'NXT.' This has certainly switched because when Vince [McMahon] — no criticism to him — but when he was running it, the show didn't seem to have as much activity as they're doing now."
Next Tuesday will prove to be a huge litmus test for "NXT" as the brand goes head-to-head against "AEW Dynamite" for the first time since October 18, 2022. Both companies have announced stacked cards for their respective shows, with WWE pulling out all the stops by calling on the likes of John Cena, Cody Rhodes, and Paul Heyman, and AEW announcing Adam Copeland's in-ring debut, Bryan Danielson vs. Swerve Strickland, and Saraya vs. Hikaru Shida, among other matches.