WWE's Raquel Rodriguez Hopes To Come To 'An Agreement' With Rhea Ripley Over Nia Jax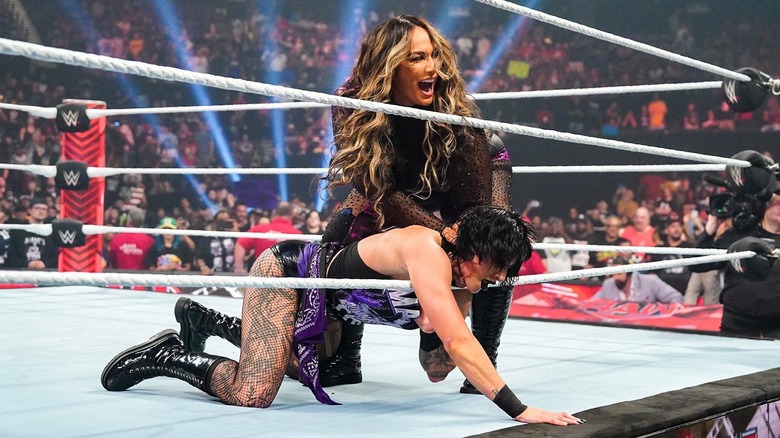 WWE
Nia Jax hasn't exactly making friends in the WWE women's division since her return. The former "Raw" Women's Champion has been wantonly running through the women of WWE, including former WWE Women's Tag Team Champion Raquel Rodriguez. Rodriguez has been out of action since she was the victim of a Jax attack in September.
"I was this close to defeating Rhea [Ripley]," Rodriguez complained on "The Bump" recently, "I could see the gold, I could taste it." 
Before Rodriguez could finish off the champion, Jax showed up on the scene, leveling both women with a vicious assault. Not only did it wind up costing Rodriguez her shot at Ripley's title, but it also furthered a worrying trend for her. Rodriguez cannot seem to face Ripley one-on-one with someone — usually Ripley's Judgment Day comrades — usually getting involved. Rodriguez has an 0-2 record against Ripley so far, previously losing a different title match, thanks to Judgment Day interference. 
Rodriguez said that she wants to be proactive about the fact that her back is against the wall and wants to find common ground with the Women's World Champion as they look to stop Jax's momentum.
"[Rhea and I] do have similar beef with Nia," Rodriguez offered. "Maybe there's some point where we could come to some kind of agreement." Rodriguez hopes that she and Ripley can put their animosity aside to eliminate Jax from the picture, which would finally give Raquel and Rhea the space to go head-to-head and find out who the better woman is once and for all.