Bully Ray Predicts AEW Plans For Adam Copeland & Christian, Explains His Confidence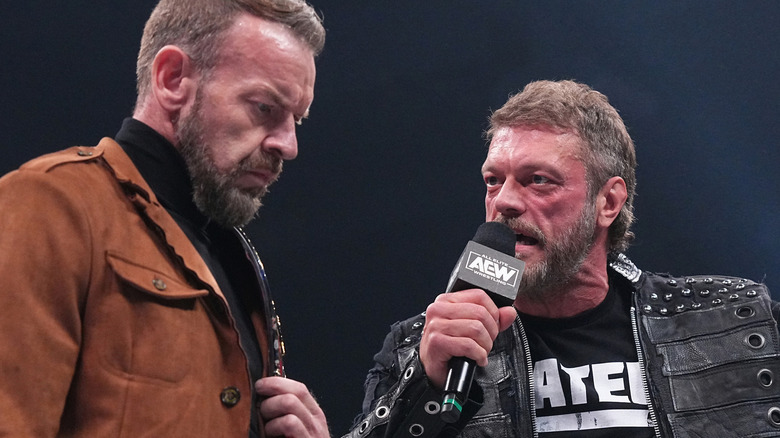 AEW
During a recent episode of "Busted Open Radio," WWE Hall of Famer Bully Ray explained his hope that AEW elongate the current storyline between Adam Copeland and Christian Cage, and not rush through it like some of their other programs. In the midst of his budding chronicle with Cage, Copeland is also looking forward to exploring some first-time matchups in the company — something Ray says can be interwoven with the ongoing story between Copeland and Cage.
"Are we supposed to get these individual singles dream matches, or do you really want to be in a tag team with Christian again?" Ray questioned. "I think we're going to get both. I think we're going to get the dream matches and the story is going to be with Christian along the way. See, I like the A and the B story, and if you have a strong enough character, you can do both. So, yeah, [Copeland] is going to have his dream matches with anybody, but the constant that's going to run underneath is the story with Christian."
"[Copeland] and Christian are not going to rely on their wrestling for this. They're going to rely on their in-ring wrestling when the time is perfect for the match," Ray added. "Dusty [Rhodes] was the master, [Terry] Funk was the master, [Jerry] Lawler was the master of 'walk it and talk it until it's time to fight about it.' They're going to do the same thing."
While Copeland extended an invitation for Cage to team with him again, the TNT Champion let out a resounding declination in response, telling Copeland to "go f**k himself. After that shocking ending to Wednesday's episode of "AEW Dynamite," Ray is confident that Copeland and Cage can execute a compelling story together, one that is backed up by 40 years of legitimate friendship, and nearly 30 years of camaraderie in the professional wrestling space.
If you use quotes in this article, please credit "Busted Open Radio" and provide an h/t to Wrestling Inc. for the transcription.