Rob Van Dam Compares Working With AEW's Tony Khan To Vince McMahon And Eric Bischoff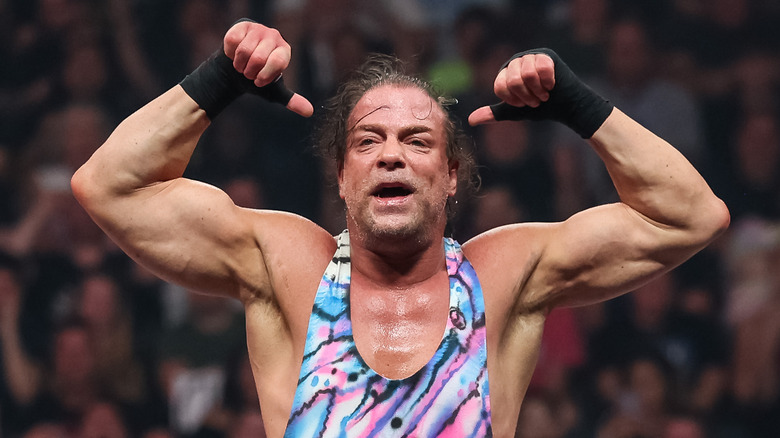 AEW
As a veteran of WWE, WCW, and now AEW, Rob Van Dam is one of the few wrestlers who can discuss what it's like to work for Vince McMahon, Eric Bischoff, and Tony Khan. Responding to a question from photographer and journalist Bill Apter on Sportskeeda's "The Apter Chat," the WWE Hall of Famer did just that, comparing the three promoters.
"Vince McMahon is intimidating," Van Dam said. "I think a lot of people feel like he's a very powerful figure. When you're talking to him, you know that. His energy ... reeks of power and of importance, and I've always felt that way about Vince." As for Bischoff, Van Dam had a distinctly different perspective compared to the former WWE owner.
"I feel like I have a ton of respect for Eric, but I feel like I'm talking to one of the boys when I'm talking to Eric," Van Dam continued. He recalled first meeting Bischoff in a men's restroom during his first stint in WCW around 1992. Bischoff needed to collect RVD's weight and hometown so he could be announced correctly, and the two bonded when they struck up a conversation about martial arts.
"Tony is extremely humble," RVD stated, moving on to his most recent experience with one of the three. "Very, very kind. Very complimentary, and does not have the energy that he's more important than anybody else. He seems more like he's happy to be there and appreciative, you know?" 
RVD stated that Khan still had some of the positive qualities of being a fan while being able to earn the respect of his wrestlers. Van Dam appeared in a pair of recent AEW matches, first wrestling Jack Perry back in August. RVD then performed on "AEW Collision" in September, teaming with Hook against Matt Menard and Angelo Parker.