Bully Ray Explains Why Christian Cage Had To Turn On Adam Copeland In AEW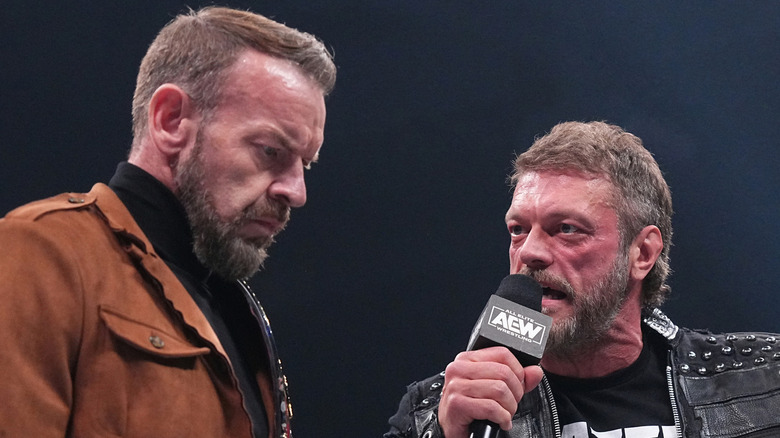 AEW
Earlier this month, Adam Copeland (AKA Edge) debuted in AEW, quickly finding himself at odds with former tag team partner and longtime friend Christian Cage. Speaking on a recent edition of "Busted Open Radio," Bully Ray — someone who has plenty of history with the two men — explained why it's better that Copeland and Cage start off this run on opposite sides rather than reuniting their team.
"Christian never got the same chance that Edge got in the WWE," Bully said. "Christian is now being allowed to be the version of Christian that Christian always wanted to be. And I can tell you first-hand, in the nicest of ways, that Christian is an egotistical p***k, who truly thinks he's better than everybody else, and always was the bigger heel in the team. And now you're just seeing it play out, and it's going to play out better with Adam more than anybody else."
Bully then compared the situation to his turning on former partner D-Von in order to cement himself as a major villain onscreen. Having a character turn on their partner, who viewers have seen develop and grow together, can have an immense impact, helping establish someone as a diabolical villain.
Last Wednesday's "AEW Dynamite" ended with an extended segment between Copeland and Cage in the ring, with Copeland proposing that they set their differences aside and team together once again. However, Cage turned down Copeland's proposal, telling his former partner to "go f*** [himself]."
"Christian saying this to Edge means a lot more than if he said it to anybody else," Bully continued.
While it seems inevitable that the two characters will set their differences aside eventually, for the time being, they will be opponents. Fans can likely expect a one-on-one matchup between the two veterans in the near future.