Paul Heyman Names Two WWE NXT Stars As Representatives Of Future Of Wrestling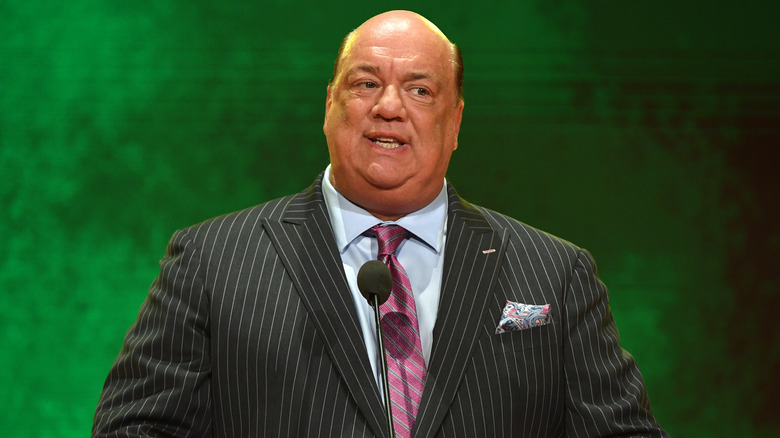 Ethan Miller/Getty Images
Ahead of his appearance on tonight's "WWE NXT" in support of Bron Breakker, Bloodline manager and former ECW promoter Paul Heyman spoke to Sports Illustrated, touching on a number of wrestling topics. In the conversation, Heyman highlighted the talent of the two competitors he'll be involved with during tonight's show.
"Bron Breakker versus Carmelo Hayes, in and of itself, is a demonstration of the magnificent future this industry is going to enjoy," said Heyman. "There are few, if any, better representatives in the talent competing for the WrestleMania main events coming up in the next several years."
Heyman then defended the decision to bring in major names for "NXT" as it goes head-to-head against "AEW Dynamite." Tonight's "NXT" is set to include Asuka, Cody Rhodes, and John Cena in the corner of Hayes to oppose Heyman.
"The guest appearances on this show are merely to call attention to the enormously gifted talent pool that is offered to the viewer on a weekly basis every Tuesday night," Heyman continued. "I would humbly suggest this NXT roster can compete with any claim there has ever been a more significant or more talented roster."
Along with all of the extra appearances planned for tonight's show, "NXT" will also go commercial-free for the first 30 minutes of the broadcast. With "Dynamite" forced to move this week due to the MLB playoff schedule, the two shows will be going head-to-head for the first time in quite a while. As a result, both companies have filled their respective shows up, giving wrestling fans plenty to look forward to this evening.