Video: Brian Pillman Jr's Emotional Vignette Debuting On WWE NXT — As Lexis King?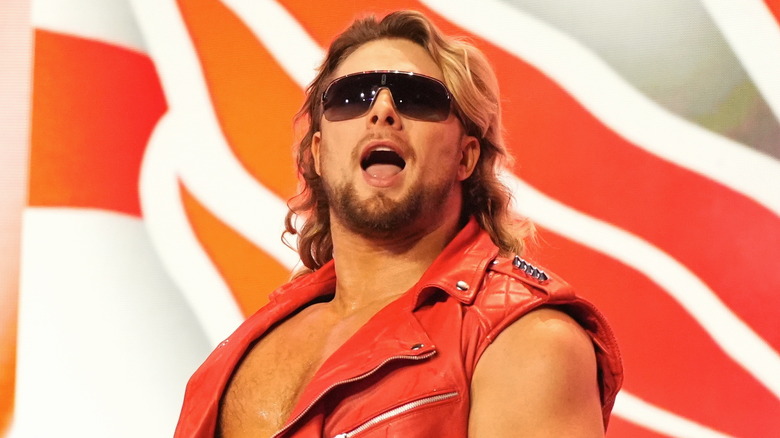 AEW
In the midst of a very eventful Tuesday night, a vignette played on "WWE NXT" providing the first look at WWE's presentation of Brian Pillman Jr. Though he didn't go as far as to confirm his full ring name, leaving out the rumored "Lexis" first name for now, the video does include Pillman revealing his new surname and the logic behind the change. After the show, the WWE star took to X to further explain himself.
26 years ago my father was buried, and tonight I buried his last name. I will no longer be known as the lost son living in his father's shadow. I will forge my own path and stop at nothing until I am the King of #WWENXT 👑 https://t.co/AVcTMvutO5

— Brian Pillman Jr. (@FlyinBrianJr) October 11, 2023
The video shows former AEW star Pillman watching highlights of his father's WWE career. Over the footage, short audio clips described the late Pillman Sr. as "crazy," "unpredictable," and more.
"My father was one of the most infamous superstars in this business," Pillman says in the video. "Everywhere I go, people stop to tell me, 'Man, I loved your dad. Such a trailblazer, he was.' It seems like everybody has such fond memories of my father. Well, you know who doesn't? Me — his own damn son."
Pillman pointed out that he was only 4 years old when his father died. Additionally, the 30-year-old stated that wrestling was one of the last things he thought he'd ever want to do. However, despite earning a college degree and trying his hand at other sports, Pillman said that he keeps finding himself drawn to pro wrestling.
"I've got no choice but to inflict pain on the very business that has brought me so much grief," Pillman continued. "But when they see this face, I don't want them to think about my dead father. I want them to think about me. I'm nobody's junior, and from this day forward, I'm going to take on the last name of the real man who raised me — the real father figure in my life — and his name was King. And now, so is mine."