Former WWE Ref Nick Patrick On Adam Copeland In AEW: 'There's No Loyalty' In Wrestling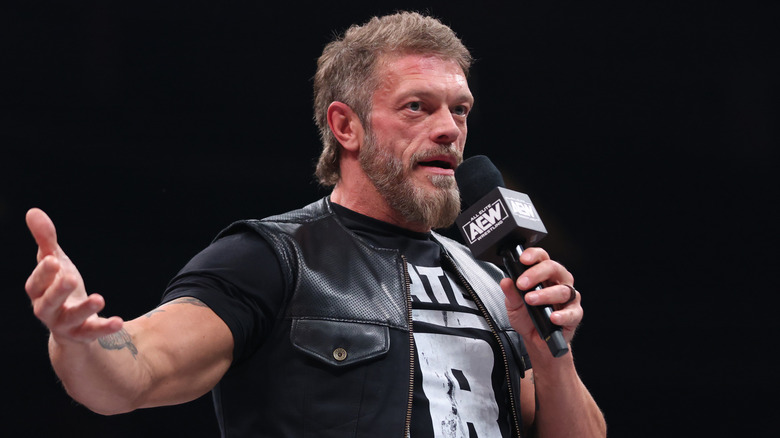 AEW
Earlier this month, WWE Hall of Famer Edge (real name Adam Copeland) made his debut at AEW WrestleDream. While the reception has been largely positive, there is some fan criticism surrounding Copeland's decision, with claims that he was not loyal to WWE. Speaking on "Monday Mailbag," former WWE referee Nick Patrick shared his take on the question of loyalty in professional wrestling.
"There's no loyalty," Patrick said. "If loyalty [were] a two-way street, it would be one thing, but look at when it comes cut time. ... You have to look out for yourself. It's a business, in the end, and we don't have agents [looking out] for us, like most [of the] entertainment business does."
Patrick went on to discuss why it was likely a good idea for Copeland to make the move over to AEW now. After spending many years in WWE, including after coming out of retirement, the 49-year-old had done just about everything there is to do in the company. Additionally, there's nothing stopping Copeland from returning to WWE as Edge down the line.
"To step away for a while and to go be successful somewhere else, the fans that love him will know that he was gone and was part of something," Patrick continued. "And hey, what if he does help pop that thing open? He's still got some miles left in him, especially if they don't overdo him and make him be on every damn show."
The former WWE referee also pointed out that Copeland will now have the ability to work with longtime friend and tag partner Christian Cage — a program that started immediately upon Copeland's debut. Additionally, there are a number of exciting first-time matchups available for Copeland in AEW, both as a singles performer as well as in a team with Cage.
If you use any of the quotes in this article, please credit "Monday Mailbag" with a h/t to Wrestling Inc. for the transcription.