Adam Copeland Realized How He Missed 'Grassroots' Involvement From Part Of AEW Debut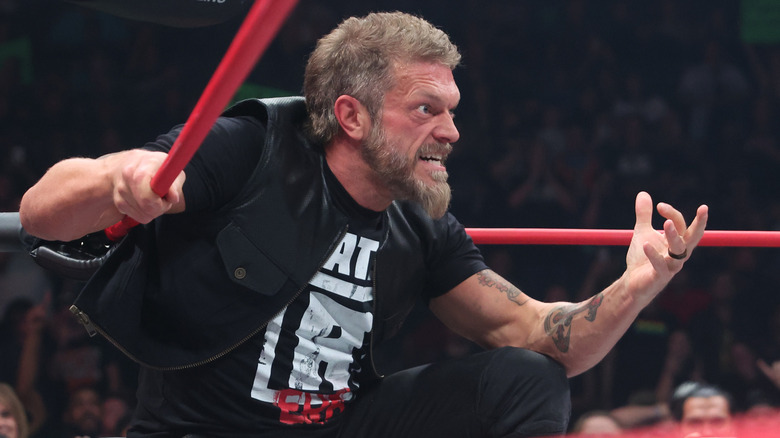 AEW
Adam Copeland is officially All Elite, having made his in-ring debut on this week's "AEW Dynamite." Speaking to Chris Jericho on the latest "Talk Is Jericho," Copeland discussed his experience so far, including meeting up with old friends as well as getting adjusted to the new environment.
"I'm sure there [are] going to be aspects of it that I have to get used to [and] re-train my brain on," Copeland said. "That's cool, though. But it's rare that you start a brand new job fresh at 49 years old, right? ... Okay, it's wrestling still — don't get me wrong. But there's still a lot of differences in companies and how they do it, and that's just exciting to me — to kind of discover how it's done here."
Copeland then talked about the process of filming the introduction video that played before his debut, as he drove around Seattle with Darby Allin and members of the production crew to capture the footage. According to the 49-year-old, one of the biggest differences from WWE is the ability to do things on the fly.
"I felt like a teenager," Copeland continued. "It was a lot of fun. I didn't realize how much I missed that – being really 'grassroots' involved in it. You know, because a lot of times [in WWE] — and it's amazing — but I'd say ideas and they'd go, 'Okay, we can do that.' And you'd just see it. But it's fun to be involved."
Tuesday night's "Dynamite" saw Copeland pick up his first AEW victory in the main event against Luchasaurus, the onscreen protege and protector of Christian Cage. Copeland has gone straight into a feud against his old friend and tag partner, and a future match between the two seems inevitable at this point.