Booker T Says Moment From Tuesday's NXT Will Be 'Seared' In WWE Talent's Brain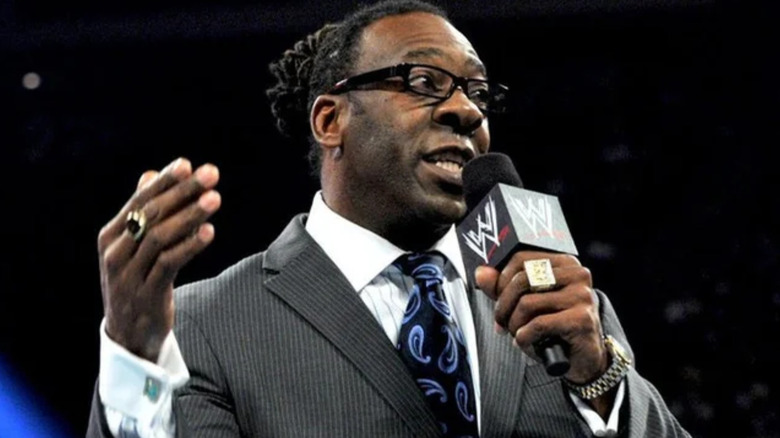 WWE
Earlier this week on "WWE NXT," The Undertaker delivered a chokeslam to a defiant Bron Breakker. He then turned his attention to Carmelo Hayes, who had been hit with a Breakker spear just moments prior. As The Undertaker pulled Hayes up to his feet, the two then embraced, exchanging nods of respect. WWE later shared exclusive footage of Hayes and The Undertaker posing on the entrance ramp together, recreating the WWE Hall of Famer's signature fist raise.
Speaking on his podcast "The Hall of Fame," Booker T shared his thoughts on the interaction between Hayes and The Undertaker. "That right there is something that's going to be indelibly stuck in his brain forever, man. It's going to be seared in his brain — that moment with The Undertaker — because he's a kid. He's a kid having that moment with The Undertaker," he stated. "I was a grown-ass man having that moment with The Undertaker when he's walking down the aisle and the music's playing, the lights, and the audience. I'm having to pinch myself and tap myself and go, 'Wake up. You're in this match here. You can't be a fan for a moment.' So, I understand where Carmelo Hayes was having that moment there for a second with The Undertaker in the infancy stages of his career," he added. "That was awesome."
The Undertaker wasn't the only WWE legend that Hayes stood beside that night. For his main event match against Breakker, Hayes received special accompaniment from 16-time world champion John Cena, who prevented Breakker from nailing Hayes with the steel ring stairs.
If you use quotes in this article, please credit "The Hall of Fame" and provide an h/t to Wrestling Inc. for the transcription.